RAWENE to CAPE REINGA
It had been the intention for Lee to ride all the way to Rawene with me on that final day, but we left the horses at Waima to recover, through the generosity of the Cassidy family - Joe and Sharon, and George and Jenny.

Meanwhile, Lee returned to the relative stress-free existence of a desk-job, and I went to the Bay of Islands to visit my brother's family. Abbey, my youngest niece, came back with me to ride with me to Rawene. She was pleasant company, and enjoyed her outing on Doug.
Rawene is a fascinating part of the Hokianga Harbour. It was intended to be NZ's first planned settlement with an English captain intending to take up land there in 1822, when he called to collect a shipload of timber. My brother had settled here some thirty years previously, and I always loved the oldness of Rawene, as well as the magnificent views of the small settlements dotted around the other side of the Hokianga - including the mission stations at Motukaraka, Mangungu, Purakau.
Rawene itself is built on a long narrow peninsula jutting out into the harbour, and is a wonderful place to watch sunrises and sunsets. It would be a landscape painter's paradise.
At Rawene I had planned to take the vehicular ferry to Kohukohu. There was some doubt as to whether I'd be allowed to lead the horses on board, or whether they'd have to be in a vehicle, but when I saw the way in which the ferry 'bumps' its way into the dock, and saw how low the sides were, I thought it best not to risk the first method.

Bev Waters, a Rawene resident, had made all sorts of inquiries as to the best way of getting the horses across, and had arranged for Ray Lewis to come over from Kohukohu with a horse float, to return to Kohukohu with my horses.

The ferry at the other side was met by Betty Pinkney, who invited me to stay with them. Her husband, Malcolm, is a local fisherman, and a talented painter. Some years previous they'd built an incredible home which was modern then and still looks ultra modern.
Betty had two working dogs which she released to meet Brae, telling me that they wouldn't fight. However, after a few seconds, one of them growled at Brae and Brae (remembering having been beaten up before) took off into the Pinkney's home - strictly a no-no. Betty's dogs, who had never been inside the house before, chased after him and we found Brae perched up in safety on a bed, with Betty's dogs slinking around, knowing that they were in trouble.

Betty arranged for me to spend the next night with Sel McCready, a retired musterer who lived at Broadwood, and joined me for part of the ride the next morning. She knew some pleasant cross-country rides, so it was nice to get off the road for a spell.
I took the Paponga Road to Broadwood and had stopped to eat delicious blackberries when I heard someone talking to Brae. It was Marie, Ray Lewis' friend, walking down the road towards me. She knew we'd be coming that way, and as Ray was shoeing some horses for a friend, she thought she'd come to find me.
I joined them for a coffee and chat before riding onwards. It was a lonely road with very little traffic passing me by that day. I'd just come out on to the main road at Broadwood when I saw a ute approaching - this was Sel McCready come to find me. His working dog had been run over, so he'd taken it to the vet's and wondered if whilst he'd been away he'd missed me.
Sel was a wonderful guy, and agreed to ride with me the next day over the Takahue Saddle. (I'd decided a few days previously not to take any more of the back roads, but he assured me that this was passable by horse!) In fact it was one of the most delightful rides I'd had - 6 kilometres of winding dirt track through beautiful native forest.
At the other end we called in to friends of his for a cuppa, and as I was about to leave a van arrived with another mutual friend, Ken Lewis, who was not related to Ray.
Ken Lewis was a Kaitaia identity; even though he'd lost a leg early in his life he'd chosen to become a musterer and drover, and had taken mobs of cattle and sheep out of the northern areas south to the saleyards or meatworks. However, later in life he'd had a bad fall and was now confined to a wheelchair, with caregivers to look after him 24 hours of the day. Despite being immobilised, he was still a very astute farmer, and spent long days at sales or out on his farm directing the management of his stock.
Sel had arranged for me to go and stay with him, and when he arrived in his van we unpacked Doug and put his load into the back of the van.
It was then a simple ride through the delightful settlement of Takahue and north to Kaitaia. Takahue had become the centre of a dispute some years ago, when there was an argument as to whether a community hall was on Maori land. Sadly, the hall was burnt down in the arguments that followed, and it tore the community apart.
There are now some fine market gardens and orchards here at Takahue - it's a very pretty little part of the country.
Ken had made arrangements for me to ride across some farmland, to minimise the amount of time I would put in on the state highway. However, as I was riding down Ruaroa Road, I came to grief. I'm not sure if I was asleep or thinking about something else, but Dart got a fright when a cow (he hasn't seen many!) got to her feet across the other side of the road. Dart moved sideways, and I didn't. The saddle slipped, and next thing I was on the ground.
Ouch! I lay on the ground for a couple of minutes, wondering if the hurt really was that painful. It was. I tried to get up... and did so after a few more minutes and found my hip/butt and shoulder had obviously been my "landing points".
A dairyfarmer came across the road and told me what had happened. As if I needed to know, after all I was there! Then a car pulled up - driven by a woman who lived further along the road who was expecting me to ride across their farm..
I felt like asking them all to leave. It was hot, I was sore. I was grumpy.
The farmer told her what had happened (probably as an explanation why I wasn't very receptive to her instructions as to how to find the farm). I was NOT interested in riding... anywhere, let alone over a lovely farm track. However, I agreed to meet her (when she returned from delivering her passenger in twenty minutes) at the beginning of the track and the farmer ambled off to talk to his partner, who had been spreading cowdung around their paddocks. He'd driven up on a nice new tractor and I'd signalled him to 'stop' (more like commanded!) because Doug was caught up around Dart, and I didn't want to make the problem any worse.
It was just as well I hadn't been riding Doug, as I'm sure if the saddle had slipped on him his 'flight' reactions might have taken over and I could have been dragged or worse.
What had happened? The farmer told me again. "That cow over there got up. She'd been lying down."
Dart, the OLD FOOL, has seen just about every cow there is in NZ, so why did this one frighten him?
It all could have been much worse, but by the time I'd walked a few hundred metres, then got on, and ridden another couple of kilometres, to find the beginning of the track, I couldn't hold the reins, let alone Doug's lead rope. I couldn't get off. I couldn't put any weight on my left shoulder. I sat there in Dart's saddle and phoned the guy who was expecting me. He was out.
I phoned my friend, a nurse. She wasn't home. I phoned another friend, an ambulance driver at Rawene. Not at home.
I phoned Directory Service to get the number of the local ambulance. Not listed. They said, phone 111. So it was another call to the emergency service. At least I knew where I was.
I asked them if they'd transport a dog too. Brae couldn't be left in the paddock. They said that was okay, much to my (and Brae's I'm sure) relief.
The ambulance came, as requested without its lights and siren going. By this time I'd managed to let the horses loose in a nearby paddock, not caring a damn who owned it. I didn't care if I never saw the horses again. They didn't care much about me either!
I stowed all my stuff in a pile beside the gate, inside the paddock. And covered it all with my raincoat. It blended well into the landscape.
And got aboard the ambulance. It seems I was a problem, as I wasn't a local. They'd have to take me to the doctor for assessment before I could go to the hospital. Who cared. I didn't.
The doctor looked at me and suspected a broken collar bone. They also wanted to X-ray my hip.
Anyway, they took their X-rays. Brae waited outside, yapping, wondering what I was doing. No broken bones. Just soft tissue injuries.
"Don't ride for two days."
At that stage I wished he'd said 'forever', but he didn't.
Ken Lewis, by this time, had got my message that I was in the hospital, and he sent his attendant, Marigold, to fetch me. Meanwhile, his farm manager had collected Dart and Doug (which I'd happened to put in one of Ken's paddocks anyway - how was that for good judgement!).
Ken Lewis had a wonderful old villa set high on a hill as you approach Kaitaia, surrounded by his farmland and his beloved horses. He had a wonderful team of helpers caring for him - Marigold, Denise, Freda, and Ivy. 'Bloke' managed Ken's farms, and with all hands on deck, Ken had just trained two bullocks to the yoke.
Ken had a lot of contacts on the Aupouri Peninsula - that part of the North Island which extended north from Kaitaia, and we pored over the maps with Ken making suggestions as to the best line to take north. The most simple route for the horses would have been to ride along the beach, but this had proved to be very boring, and it would not always have been easy to find grazing near the beach at night.
When I left Ken's I rode through Kaitaia and down the state highway through Awanui. This is a busy part of the way north, where the two main routes meet up before traffic splits again, choosing to drive along Ninety Mile Beach or to take the mostly sealed highway right to the top of the North Island. As well, there can be up to twenty coaches which take tourists to Cape Reinga each day.
There was a large stretch of road works on the day I chose to ride, and traffic was being delayed for up to twenty minutes. Rather than waiting in the queue, I rode Dart forward and spoke with the man who authoritatively held the 'STOP' or 'GO' sign, the continued forward. When the traffic behind me got his permission to go, I joined in on the tail of them, and started to trot, but this was hard work for Brae to stay in the saddle, so I let him get off.
No sooner had his feet reached the ground when he ran over onto the new seal, which I thought would have been hot and damaged his feet. I got off immediately and led the horses into a driveway to check out Brae's pads, but there was no damage - obviously he was too light to have made an impression.
The traffic was now held up in the other direction and to try and keep off the highway I led the horses through a hotel carpark, then they jumped a ditch back out onto the road verge. The motorists were all pretty frustrated with the delays, so I popped Brae up into Dart's saddle and led the horses along as close to the edge of the road as I could, where they weren't going to impede the traffic. To the passengers in the Fullers' coaches which went past, it must have looked really strange - a dog riding a horse along the roadside.

At Awanui there's a large long-disused dairy factory, which is now harbouring various cottage industries, one of which is the manufacture of beautiful kauri furniture made from swamp kauris. When the timber was felled, a lot of timber was left to rot in the bush, and in time it's been covered over by mud and soil. These stumps are now being recovered and the timber being utilised. There were some massive stumps outside the factory, and as I inspected them I met several tourists amazed at their size and the intricacy of the furniture being created.
I took a back-road to Waipapakauri Beach where I was to stay overnight with Heather Jones, a local farmer and keen horsewoman. This took me through a camp where the last of a dying race, Milan Jurlina, still bought and sold kauri gum, like his father before him. In the early days of New Zealand many people emigrated from Yugoslavia and settled in the far north, taking the gum from the kauri trees by digging, fossicking in the treetops or by bleeding live trees. The gum was sold and used to produce varnish and a reasonable standard of living could be made from the collection and sale of the gum.
I arrived at Waipapakauri Beach where I was to stay with Heather Jones. Heather cared for the local hunt club's hounds on her property. She was excitedly making plans for her daughter's wedding, but found the time to take me north and show me her other farm which bordered the beach at Hukatere, where I could once more keep my horses overnight.
It was a delightful ride through the Aupouri Forest pines to get to the beach, but an amazing sight greeted our eyes when we rode over the sandhills. The beach was littered with fishermen, competitors in the $200,000 Fishing Competition held annually. The contest lasts for five days, and uses a 20 to 30 kilometre section of the beach each day. It was entertaining as I rode northwards watching these fishermen standing around in the water, waiting and praying for the catch which was going to make their fortune. I thought they were crazy, but as my brother later told me, they probably thought the same of me, if not worse!
Ninety Mile Beach (actually more like ninety kilometres long) is used as a road for access to the Far North, but the authorities suggest not to do so within two or three hours of high tide. The coach tours which travel to Cape Reinga will travel north along the beach, and return via the road, or vice versa, depending on the tide. But once you are committed to the beach you don't stop. Many vehicles have been caught by waves on the incoming tide, and then they disappear quite quickly into the sand.
I noticed that most of the fishermen had four wheel drive vehicles, but there were still a few cars, mostly owned by locals, driving up and down. There are no rules to the road, no such thing as keeping left, and I took a careful watch on Brae when a vehicle was apprpoaching.
I found the grazing at Hukatere without any problem and secretly thanked the fishermen for breaking what might have otherwise been a monotonous day. The paddock that I had to leave the horses in was huge, and I left them hoping that they'd come for me the following morning. However, when I drove back down Hukatere Road, I saw them in the far corner of the paddock.
I walked over to where they were standing with Heather's two horses, and caught Dart. Doug, I knew would follow - he would never leave Dart's side for long, and he dutifully followed us to the gate where I'd come in, and where his feed was waiting. However, 100 metres before we got there, he called out to his new mates, and trotted back to join them.

Dart and I knew he'd be back within minutes, and so whilst we waited I fed Dart and saddled him up. My cousins, Jonda and Dion, arrived to take my car away to Houhora, and still Doug hadn't reappeared. There was nothing for it - we'd have to go and get him. So with Jonda and Dion taking turns to ride Dart, we made another excursion to the far side of the paddock. That wasted a whole hour; I could have kicked Doug.
Jonda had told me that I should see some wild horses that morning and we hadn't ridden far into the Aupouri Forest when we saw a band of them within metres of the road - at first a mare with a foal at foot, then two or three others, and lastly the stallion, the herd leader, trotted up to glare at us, before shepherding his mob to safety.
Ken had told me that he'd once been bringing a mob of horses down the beach back to Kaitaia and some had gotten away into the forest, and this had been the start of the wild horses there. There are now several large herds, and there are a wide range of colours and sizes. When I drove my car down the beach a week later we noticed three standing at the top of the sand dunes, but they quickly moved away as one of the coaches came close to them and stopped to let the tourists take photographs.
For the next two days I rode along the main route north, dodging fast-moving logging trucks and a multitude of tourists who were wise enough not to take the beach route. It was hot, and often dusty, particularly when we came to roadworks and the traffic refused to slow. I was delighted when I saw a sign advertising watermelons. Even though I didn't have a knife on me, with the help of the woman selling them we cut it open on the fencewires and I scooped out the delicious flesh with my fingers.
At the very top of the North Island are three large stations - Paua, Te Rangi and Te Paki, all managed by the Parengarenga B3 Trust. These three properties are some of the largest stations in Northland, being 3,027, 2,452 and 3,018 ha respectively. DOC own Te Paki, but the other two stations, as well as large tracts of forest are owned by the Parengarenga Incorporation, with 2,400 shareholders made up from members f the Ngati Kui, the Aupouri and the Rarawa tribes.
I was privileged to stay on both Paua and Te Paki. Max Dunn, the manager of Paua had worked in the Far North for a long time, and his wife Kathleen rode with me on their 3 Day Event prospect, Trooper, over to the far side of their station, through the forest and onto the beach before leaving me to return home. It wasn't much further north before I found Te Paki Stream between the massive golden sandhills which distinguish this part of the coastline.
Te Paki Stream is used as a road for access to the beach but when driving vehicles down the creek bed you are warned not to stop, as the vehicle will very quickly start sinking into the wet sand. We had found the same problem with the horses when we'd stopped to give them a drink and a rest - within seconds they would be stuck in the sand up to the tops of their hooves unless they kept shifting their feet. At first they were frightened by the sensation, but soon learned to keep shuffling their feet as they rested.
The morning tide was receding, and as it wasn't time yet for the traffic to begin the homeward journey I had the creek to myself for a while... but suddenly Dart stopped and stared. Once more his neck muscles tightened - there was something really frightening in the distance.
It was a tourist, a young woman, with a flowing muslin gown, walking casually down the creekbed. Dart knew that this was the wilderness, and you don't see women in flowing gowns walking down creekbeds, now, do you?
I made him go closer, but he was very reluctant to do so. I called out to her, hoping she'd answer and that he'd realise it was a human, but she didn't reply. I called again.
"Hello!"
There was no reply, and even the third time she didn't respond, but rather looked around to see who I might be talking to.
I called out again, asking her to talk to me, please. I was hoping she understood English.
"Oh! Hello! Is your horse scared?"
She was a German, a horselover, and was intrigued to hear about my journey and see that I was riding in a natural halter. She laughed when I told her that she'd scared Dart, and when I told her his age she had another good laugh.
Suddenly the tourist coaches were upon us. Each one made a stop on a wide section of the creek bed where there was dry, firm sand, and passengers got out and walked up to the top of some of the sandhills for photographs.
I talked to the German woman for a few more minutes until Dart spotted someone at the top of a distant sandhill. This one had a surfboard with him - poor Dart had another heart attack. There was no way it could have hurt him from there; I think he was just having me on. Maybe he knew we were nearly there, our goal was almost achieved.
As I rode over Te Paki Station I noticed lots of large mushrooms growing in the paddocks. They had told me several days previous that they'd had quite a good rain and now with the humid weather it was ideal conditions for mushrooms. How I would have loved a feed of them.
My prayers were answered... when I arrived at Te Paki I was offered a bed in the Single Men's Quarters, where three men who were spreading fertiliser on Te Paki Station would be staying. They offered to share their meal with me, and so I offered to gather the mushrooms and add them to their casserole. However, they weren't quite convinced that this was the ideal conditions for ushrooms, and perhaps I'd misidentified them. Two of them ate the casserole but not the mushrooms, whilst the third refused to touch the stew! Little did they know that I had been gathering mushrooms for many years and knew what I was doing.
My final day dawned early and I was keen to get on the road before it got too hot. I caught the horses and brought them back in the pale moonlight to saddle them. Whilst I went to get their feed I left Doug tied up, and came back to find Dart had disappeared... and I couldn't see him now in the morning mist. This was a job for the car and the headlights, and he was soon found and brought back. This time I left him tied up; I couldn't trust my horses!
We had another 17 kilometres to go to Cape Reinga, over some quite steep hills. The day got progressively hot - it was overcast and despite riding along a ridge there was little wind. I had packed up Doug; even though I didn't need my supplies I wanted to take photographs of our 'historic arrival'. However, my camera had other ideas; when we got to the end it jammed and refused to work.
There were some magnificent views of Te Paki Station, the sandhills on the west coast, Cape Maria van Diemen and North Cape to the left and the right of us, the stirred up waters n orth of the Cape, where the Tasman Sea meets the Pacific Ocean, and the areas of 'scrub' which were farmed until thirty years ago. Under DOC's policy it is being allowed to revert to natural vegetation, and it is considered to be one of the most outstanding wildlife habitats in our country - with scrub and openland native birds and waterfowl. It is one of the strongholds of the NZ fernbird and the last remaining habitat of the NZ flax snail.
The whole of the Te Paki Farm Park, which includes the station, is made up of 23,000 ha, and it would be worthwhile having a few days to explore the region.
It was 12 midday and I had mixed feelings when we arrived. The first sign to greet me proclaimed 'No Dogs', so I tied Brae and the horses up to it. There was no-one there to greet me, but my brother, Lyn, and wife Gloria, were on their way.
I was sad, and yet pleased to be there. It was going to be a relief not to have to ride, to pack up all my belongings and saddle up each morning. I needed at least a few weeks before I wanted to get on a horse again.
If I expected balloons and a welcoming committee, then I was sorely disappointed. Five women had passed me a few kilometres before I got there and spied Brae behind me, taking photographs. They walked over and welcomed me, and sat and chatted for a while.
Nick, who worked for the Department of Conservation came over, and greeted me. He asked me if I had some lunch, and welcomed me to the Coach Drivers' Room for some chicken and bread he'd just cooked. But the tour drivers, I could tell, didn't want my presence.
More DOC Rangers came by, asked if the horses would like some water and went away to get it. And lots of tourists came over to pet the horses and Brae, including a group of young Japanese who asked if they could have their photos taken with the horse. I suggested that they get on and three or four of them posed on Darts back, separately, of course, and were horrified when he twitched his neck to dislodge a fly!
The Fullers coach came and, as requested by me a few days previusly, brought me one of their famous picnic lunches. When they'd heard what I was doing, though, they had spoken to their caterers, Newson's Delicatessen at Paihia, and it was provided free of charge. It even had a complimentary bone for Brae, much to his delight!
Then at about 3pm Lyn and Gloria arrived bringing with them champagne and snacks. It was great to have someone there that I knew to share the occasion with. When they left they took Brae and my packs back with them to Te Paki. I'd decided to ride Doug back and give Dart a rest. It had taken us four hours, in no great hurry, to ride the 17km, but returning Doug walked out, with Dart jogging alongside, and made it in just over two hours. I'll have to work more with Doug though, as he wouldn't go down any of the side tracks which cut off corners, that it had been easy to choose with Dart.
I sat down that night and worked out how much distance I'd covered. From Bluff to Cape Reinga took me 105 days' riding, over a period of 346 days - that's about 1 in 3. I covered 1445.7 kms in the North Island, 1092.5 in the South, a total of 2538.2 kms, or if you still work in the imperial system, it's 903.5 and 682.8, totalling 1586.3 miles.
The horses - Dart and Kia Kaha (Doug), (but not forgetting Rosy and Captain for their contributions) got through 13 sets of shoes. And Brae got through none, even though I'd bought him some special leather boots from Ranchware. He spent more and more time riding on Dart though.
The next day I'd arranged for a driver and horsefloat to take me up to Te Paki to get the horses, and I bought a disposable camera so that we could get photo's from the top. Because we were there when no tourists were about, the DOC staff let me take the horses right down to the lighthouse, so we got some beautiful photographs. I was especially lucky because on that day the sky was a brilliant blue.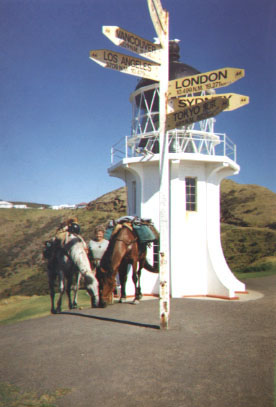 Malcolm took some great photographs, even though he professed to not being experienced with a camera, but I was delighted with the result.
On the way back we were hot and thirsty so I offered to buy Malcolm a beer at the Houhora pub. I walked in and the first person I saw I recognised as my cousin.
I said to her: "I know you!"
Even though I don't think we'd ever met. A photograph I'd seen, and the fact that she had the Woodcock nose and eyes helped.
When she realised who I was, and I introduced her to my driver for the day Jean announced she was "from the black side of the family".
My mother's brother, Ted, had married a Maori woman, and they lived at Pukenui on the Houhora harbour. I had three cousins, Frank, Don and Jeanie, which up until last year I had never got to know. Frank I'd met last Summer, when they came to visit me at Merriemont. We had a lot of fun.
But as children, because of the distance, we'd only get to meet that side of the family briefly and I only got to know my cousins last year. Ted and Jean are long dead, Jeanie is now known as Jean. Don is head of the Department of Conservation at Great Barrier Island, Frank and Eva are workaholics - she works at one of the souvenir shops at the Auckland Airport.
Jean is divorced, but works with her partner on a fishing boat, currently based off Westland. Her daughters I caught up with when I first got to Houhora, and we looked at photo's to see what that side of the family looked like. I was thrilled when they told me that Jean would be flying home that week for a visit.
Whilst we were at the pub I'd told Jean that I would come back the next day for a longe visit, and that I also wanted to call on some of the other people I'd never managed to meet. Jean and her friend, Mare, offered to come along.
So there we were - three single women on the loose, heading north. First we visited 'Tommy' Neho (really, her first name is Irene but no-one calls her that) who lives right beside the main road. She'd be in her 50's, slim and lithe, looks only about 30. EVERYONE told me that she's a real character - Tommy told me she was eccentric. EVERYONE told me she used to go hunting and catch her own wild pork.
We spent a while there, drinking tea, Tommy and Mare reminiscing about the good old days - how DOC had culled all the wild pigs, or made it so that the Maori couldn't go hunting for their own food, and how the grassland which was once good farmland had been left to regenerate, giving the marijuana growers ample sites for growing their crops. Now, they told me, it was so dangerous going out into the bush, and how they'd had to avoid big dogs or people with guns on numerous excursions foraging for food.
It was fascinating sitting there listening to them, with their delightful accents, mostly talking in English (fortunately for me!) but with their nods and "aye" as we would use "mmm" or "yeah".
Amongst other things we'd been talking about the beautiful food at Waitiki Landing - it's a junction and store/camping ground/restaurant etc. The chef is Italian, so we had pizzas - highly recommended.
Next visit was to the Kohanga Reo at Te Hapua. This is a remote settlement just south of Spirits Bay, on the Parengarenga Harbour. Here I was keen to meet up with Nuc and Lovey Brown; Nuc was out on the oyster beds but Lovey was working at the Kohanga Reo. (Kohanga Reo is Maori for 'language nest'. Some years ago there was concern expressed at how the number of people who could speak Maori was deteriorating, and the Kohanga Reo were started up - they're pre-schools where the main language is Maori.)
We were all welcomed here and offered another cup of tea. Much of the talk I couldn't follow, but it was delightful just listening to it, and watching the body language which we all have unique to our own language.
Lovey arrived; she'd been to the doctor's, who once again had told her she had to 'lose weight'. The woman who drove Lovey to the doctor said that as she waited outside she knew what the doctor had told Lovey because of Lovey's laughter!
I delighted in watching the children here. When Brae came into the Kohanga Reo I showed the children his trick of waving, and they thought it was delightful.
We had a great day... I hope that if my first book is a success I can go back and photograph some of these personalities in their natural environment... with perhaps a quote or a recipe or some 'memento' of the person, the personality, and their community.
On the return I suggested to Jean and Mare that we would drive down 90 Mile Beach. So there I went, down the road, into the creek, and I think it's about 2-3 km before you get to the beach and my car motor kept dying on me. I was sweating! Then, on the beach... I could follow other people's wheel marks all the way... but my motor cut out. Up with the bonnet, and I fiddled with all the leads.
Jean and Mare (said quickly a bit like Murray, not MAHree or MaREE) didn't seem too concerned. In fact Jean went and dabbled her feet around in the water and came up with some toheroas... which we ate. Strictly illegal of course. We got the car going, went a little further, through some more water and the motor died again. And this time it refused to go. ****.
I was really sweating - it was only 3pm, and the tide wouldn't be in again until 11pm, but I wanted to get back to Kaitaia and collect my photo's before the shops shut at 5pm, plus do some more visiting. Two tourist coaches drove past... they wouldn't want to stop because they might get stuck. I was hoping that when we got the car to go again, I wouldn't be stuck! Many people have lost cars on the beach, because once the tide gets to them they're firmly embedded. (I'm such a negative thinker!!!)
Finally another coach came past (this guy drives a Unimog, from Paihia - he stopped, and the passengers all climbed out and said what a fantastic trip they'd had. He fiddled with all the leads, while the passengers stood around and photo'ed and videoed my plight and finally he found the coil was loose, we started it up and off we went.
I found when I came off the beach that my hands had been gripping the steering wheel SO-O-O tight...
Anyway.
We'd had a fantastic day. (I'd probably done more than if I'd been on horse, but... horses are more reliable on the beach.) My trip was now well and truly over, and now I had to leave the Far North and get on to other challenges.
For instance, writing a book. Rewriting, and checking information... adding bits you've forgotten... checking photographs and details... I hope it will be on sale later in 1997.
© 1996/97 Jacqui Knight, all rights reserved.