From WELLINGTON to FEILDING
Wellington is rather unique - if you are not leaving by sea, you can choose to drive or go by rail along one of two routes, the Hutt Valley or through the Ngaurenga Gorge and along the coast.
With the help of the Regional Council staff a route was plotted that would keep me out of the heavy traffic to a point some 45 km north of Wellington. From there I would be able to ride along the beaches for at least another 30 km before going in into the Manawatu where there was a wide variety of roads to choose from.

It was a beautiful day when we left the grounds of the Houghton Bay Light Horse Club. We rode through a quarry and then followed the track around the coast.
At first there was some traffic - four wheel drive and pedestrian - on weekend outings with the family. It was a most dramatic part of Wellington - only a few minutes out of the suburbs, with steep cliffs towering above us, patches of gorse and grass hanging on for dear life lest they fall into the raging surf below.
It wasn't long before D'Art told me that something was wrong. I could spot what was worrying him - a father with a small child in a backpack had climbed to the top of a pile of shingle, intending to 'moonwalk' down the other side. To D'Art it was something quite terrifying!
Brae was enjoying the journey. He loved the beach, charging off to bark at the waves, and then running madly to catch up with us again. In several places there were groups of baches, with windows and doors battened up tightly against the storms that would hit this part of the cost all too frequently.
We passed the point called 'Red Rock' where there are brightly coloured outcrops of red and green rock in the ocean, with the blue tide surging around them. I was told later that this was iron ore in the process of oxidisation in the salt water and air.
Shortly afterwards, D'Art stopped again, prancing to a stop. It was easy to tell when something was worrying him. Firstly his neck muscles would tighten, hard as steel under my hands. Then his back muscles would arch and harden as well.
On this occasion I couldn't see anything wrong. Then I got a terrible smell of dead fish; although I couldn't see anything dead it was obvious that this smell was worrying D'Art. Then I remembered I'd been told about a seal colony around the bays. I looked, and after a few seconds realised that what I'd accepted as rocks was actually a large group of seals basking in the sun.
From that point on there were seals all around the bays. D'Art never got used to them, and of course Brae didn't help as he would bait the seals into moving away, running just close enough to them and then standing, looking, until the seals decided they'd better retreat. He was lucky that they didn't chase him - I wouldn't have liked to have been on D'Art's back when that happened.

I had magnificent views of the Marlborough Sounds at the top of the South Island, as close as 24km away, but further down the coast I could see the snow-capped peaks of the Kaikoura Ranges.
Several shingly beaches that made a loud rattling noise as the surging ebb of the waves pulled the rocks back into the tide, and at one point we rode through the raging surf with no alternative - the cliffs bounding Terawhiti Station to the right of us, Cook Strait to the left of us. Of course the waves were one of the things that Doug objected to, and he pulled back as a wave rushed in at us.
It was another of those times when my grip on the lead rope wasn't strong enough as Doug turned to go back to dry land at Wellington. I was lucky he turned away from me and into a crevice of the rock; it was a relatively easy task to catch him again. I was worried that Brae, with much shorter legs, might get carried out with the tide as we delayed.
After several hours riding we came to a small inlet where the Karori Stream came out to meet the sea. Here there were more baches and a track heading north. We crossed the beach and through a gate onto the station.
Terawhiti Station is 4800 ha (12,000 acres) of steep, rocky country, battered by both southerly and northerly winds. It has been farmed since the 1850's and in recent years converted from sheep to cattle, now running 2,000 mostly Herefords, with only 800 ewes kept for mutton and dog tucker. On a farm this size and with conditions so severe, fresh dogs are needed each day when working with the stock, so a mob of 18 are kept.
As I rode into Oterongu Bay I could see the powerhouse where the Cook Strait cable comes out. The huge power lines bringing electricity from the generators in the South Island had a continual spray of fresh water played on them to stop the corrosive action of the sea spray.
Now we turned north east, inland again, back towards Wellington city, and climbed rapidly 400 metres. I was pleased I wasn't on foot! I could see some of the 70km network of tracks through the gorse and tawhini scrub over Terawhiti, and further to the north the best grazing. One of the paddocks was 600 ha (1500 acres).
We followed this steep road back to the Makara Valley. From my vantage point I could look down on the coast, and was surprised to learn there had only been two severe shipwrecks here - in 1852 the 'Maria' was wrecked with the loss of 26 lives, and in 1909 the 'Penguin' foundered and 70 people drowned.

I spotted a young woman leading a pale palomino horse downwards and when she called out I realised that this was Leeanne Spittal, who I'd spoken to earlier that day, come to meet us. She lived on Terawhiti and was training Frosty for endurance. Leeanne was a lively companion for the final 10kms of the ride to the homestead.
Gold was discovered on Terawhiti in 1852 but although many shafts were sunk it was never as successful as the gold rushes in other parts of Australia and NZ. Leeanne told me that there were still many mine shafts there today which could prove quite hazardous if you weren't careful.
The horses stayed in their sheltered paddock at Terawhiti whilst I spent a week roving around Wellington. I was having a ball - the weather, which had blown up a storm again, didn't bother me! The day I chose for the next stage was a wonderful day - a cloudless sky and not too much wind. It was a pleasant ride along a narrow but relatively quiet road, through the Takarau Gorge to the Ohariu Valley. Leeanne was to accompany me part of the way.
We came through one narrow cutting, steep limestone cliffs to the left, and we could see heavy smoke ahead of us, which seemed so out of context on a windy winter's day. When we got closer, the smoke was billowing wildly over the road, and the horses were loath to go through.
We called out but no-one replied. The seat of the fire was very near the planted bushes beside the road and if these caught fire the forest on the nearby ridge would be threatened. As well, the northerlies were getting stronger, and the forecast had been for the wind to change to southerlies later in the day.

Leeanne went to investigate. There was no-one there. Another motorist stopped to assist her and they got into the house to phone the fire brigade. However the fire had burnt through the power and phone cabling and the house was now in danger.
My cellular phone wouldn't work in the narrow gorge so I had flagged down a motorist and asked him to call the fire brigade when he got to Johnsonville. The man played the hose on the fire but the pump had died, and the water was now trickling out. There was now little more that we could do.
I decided to ride on, but before I'd gone five minutes I could hear the fire engine coming in the distance. I took the horses through an open gate and into a paddock to keep out of their way. Five minutes later and another engine approached; a grassy bank proved an ideal escape route.
Before too long we were riding up out of the Ohariu Gorge and into the suburbs of Wellington - Johnsonville where I rode in to a McDonald's and ordered my lunch. I'd always wanted to go to a McDonald's Ride Through; after I'd had my hamburger and coffee it was on to Tawa where I'd found a paddock for the horses.
Another week of dismal weather in Wellington, but I put it to good use, enjoying my stay with friends. Finally I decided the grazing where the horses were couldn't support them any longer, and I would have to ride on another stage. The ride took me under the motorway and up the Takapau Road to the Belmont Regional Park. It was amazing - within a few seconds of passing under the main arterial routes north, I was in quiet countryside. The hills of Wellington are so steep that it is unlikely they will ever be built on.
We passed donkeys, and ducks - one young mother had fourteen ducklings with her. Geese and goats. Sheep and Shetland ponies. On the road it was still and sunny, but there was quite a wind blowing high above us.
We were climbing again, around past a power station and through a locked gate onto the Belmont Regional Park. The track we followed took us downhill again, through a narrow gorge, surrounded by ewes in the process of lambing. The countryside was pretty, the track was easy for the horses to traverse. Doug was standing up to the journey well.
We missed our turning however, and rode another kilometre down into the forest to a locked gate with a forbidding sign on it and a padlock which my key didn't fit. Around we turned and headed back, whilst I contacted the ranger to find out where we'd gone wrong. It wasn't long before we were back on course, climbing steeply up to 400 metres above sea level along a road the ranger had laughingly referred to as "The Freeway".
This took us to the top of the park and a battery from the Second World War. It was spooky riding past these concrete buildings, dark, damp and dismal inside. I took a photo of a ewe that had gone into one of the buildings to have her lamb.
The wind was strong up here but fortunately it was coming from behind me. However, before too long I turned from heading south- east to ride north again, into the wind; very cold!
North down Belmont Road towards the highway connecting the Hutt Valley to the west coast. This was a delightful dirt track and easy on the horses' feet. We passed a deer farm, with huge Red Deer watching us, and rode into a glade of tall timber, the pine needles muffling the horses' footfalls.
Coming out onto the main road I realised it wasn't much further to the Paekakariki Hill Road and our overnight grazing - at Annsford, a riding school and grazing establishment. Doug was showing a little lameness, but I was pleased I'd decided to move on. The horses were welcomed at Annsford with a lush paddock and haynets; it wasn't long before friends came to retrieve me and take me back to their home.
One of my rules when riding is to get away early so I arrive in daylight. I didn't, the day I left for Paraparaumu. I left at 11.30 am, having aborted the previous day's ride, because D'Artagnan was showing signs of lameness. When I got the vet out there was sensitivity in or around his hoof but we couldn't find what was causing it.
So I trotted him out at about 11am. He seemed fine, so saddled up. The ride was across land owned by the Wellington Regional Council. Firstly it's a farm/park with resident ranger but tenant farmer, where you can go and enjoy the outdoors. Sheep, beef cattle, people can ride horses there etc.
I rode across a flat, through a stream and started my climb... into a forest. Once again parkland, popular with trampers, the forestry being undertaken by a Council department. Pinus radiata, imported from North America grows to maturity in about 30 years here and can then be milled. A cash crop.
I rode up and up and up. Tracks of about 30 degrees to the ridge - of course steepness like that throws out my calculations on distance taken from the map. Along a ridge... there are all sorts of tracks put in in case of forest fire which weren't shown on the map. The DOSLI 1:50,000 map was not recent so the tracks were confusing if I followed them too closely - better to mark our progress against landmarks that didn't change - such as mountain peaks, rivers etc.
Well, we only went a few metres off course then found our way back to the main track. It was a lovely ride through mature pine forest and occasional bursts of native forest.
I did some quick calculations; if I was hoping to do 30kms at my normal pace of 6kmh I would be there by 5pm. I split my intended route on the map into four sections so that I could more easily chart my progress. And realised I was already going too slow. Still it wouldn't be dark until 6pm, not allowing for delays...
A sunny day, with a reasonably high wind, but I was out of it, quite sheltered. I took off my sweater and rode in my undergarments - well, top half anyway. Bottom half was thermal fleece trousers and leather chaps.
Magnificent views from the top... down to the farmed valley, and all around me mountain-tops. What I call a "green and blue day" if you excuse the yellow gorse flowers. Brilliant blue sky, emerald Spring pasture below. Dazzling.
Onwards, found the Hydro Track under three rows of power pylons stretching north, carrying power generated in the South Island north to the larger cities of the more industrial/populated areas. It was steep down again. About 40 degrees, 45 in parts. I led Doug, whilst D'Art just found his own way so I didn't get pushed or tripped by horses. At the bottom, the track wound in and out of a stream where I'd heard I might see brown trout. After the recent heavy rains, however, there were no fish to be seen.
And then upwards... Wow! This WAS steep. I don't know how they'd manage getting vehicles up it. A zig-zag, I would stop and let the horses get their breath at each corner before going up again.
When I reached the summit I did another calculation. We were going much too slow. (When I thought about it later... 5km on the map and a slope of 45 degrees means you're actually covering 7km+, PLUS the upwards bits are much more taxing on the horses.)
I phoned my host, Sheila Robinson and told her to expect me between 5.30 and 7pm. Sheila is a delightful lady living at Paraparaumu. When she heard I was coming and what I was doing offered me accommodation for as long as I wanted. She'd organised a "lovely paddock" for the horses with "tons of good feed" and when she knew I was taking a few days off said to not worry about the horses, to leave them with her as she'd love to look after them. She even said that when I arrived she'd have a gin and tonic waiting me! What a woman!!!
Down into the valleys again. Second growth native forest - probably the bush had been cleared and the land farmed after WWII, what we called "rehab. farms". I guess the Council had bought it as water catchment area/park etc, so the bush was being allowed to regenerate. Hunters were allowed to hunt pigs and deer. Several times hares would sit on the road and look at our progress before they snuck away - they obviously didn't see many intruders.
It was colder now, and out of the sun I put my woollen sweater back on, then my thermal fleece jacket. It was getting colder still so I took off my safety helmet, pulled the hood snugly around my ears and my helmet back on top.
A locked gate had the padlock inside a steel case you could only get to from beneath. Too many padlocks had been shot off in the past... but it was difficult to open with the key I'd been given.
Then downwards again. Into a delightful valley where we forded the stream, up again in taller bush now. What a ride! Lonely, but heavenly to be away from the traffic. Some of this bush had been planted out with cedars and as we rode under them I could pull and crush a few leaves and savour the delightful perfume.
We kept going, I didn't stop for lunch, just kept swigging water from my drink bottle. The horses would pull some of the long grass from beside the track when I stopped to check the way. Doug enjoyed drinking from the stream, but D'Art prefers the water trough.
I was able to keep track of where we were quite well on the 1:50,000 map, and wrote down the times we passed landmarks on the other one. We were making good time, until...
We climbed very slowly and came out through a plantation of young pines with a magnificent view steeply below and a locked gate in front of us. I stopped to admire the view.
Below me I could see the coast of the Manawatu stretching northwards for maybe 80 kms, Kapiti Island hugging the coast in the Tasman Sea, and the townships of Paraparaumu and Paekakariki down below me, perhaps still 10km away. If only I was down there with a warm cup of tea.
It was an exposed ridge, and VERY cold. The wind got through my chaps and my trousers - my legs were freezing. My face was burning with the cold - a strange sensation, cold yet hot.
I tried the key, but perhaps because my hands were SO cold I couldn't get the lock open. I phoned the Council to check where I was but all I got were answer-phones. It was now 5pm and offices were closed. I'd been told to phone 111 in an emergency, but didn't like to at this stage.
I tried to work out my position; twice the wind caught the map and blew it away. Luckily D'Art was an understanding sort of horse.
Maybe it was the cold or my anxiety, I wasn't thinking too clearly. I got very snaky with the horses when they put their heads down to munch the lush grass. It wasn't their fault!
I rode along the exposed fenceline and after about half an hour of negotiating our way along the steep ridge came to another, unlocked gate. Through that, into a steep paddock with lambing ewes, and rode back along to the locked gate, rejoining the track down.
Another 15 minutes and ahead of me I noticed a trig. Having another look at my map I realised a summit I'd passed one hour earlier thinking it was THAT trig, surrounded by trees, hadn't been what I thought it was! I was still another two hours to the end of the track - one hour caused by going round the locked gate, and another hour through my miscalculation.
And it was getting dark. We continued to follow the track and in the last of the light, I took a grid reference from the 1:50,000 map, writing the numbers very dark and bold on the palm of my hand. The track wandered beneath the three rows of power pylons, and I came across a sign on a gate beside the track, identifying a Landcorp farm, saying it was closed for lambing until 30 November.
I thought it was probably the back of Whareoa which I'd seen from SH1. I dialled directory service and got the number. Dialling it put me through a fax-switch to the screech of the fax machine. OH! (frustration)
I dialled 111 and asked for the Police, telling the officer who answered I was lost... on a track under the power pylons at the back of a Landcorp farm. I gave them the grid reference where I THOUGHT I was and sat down to wait their return phone call.
A constable from Paraparaumu phoned me. He knew exactly where I was - and told me to continue along the track for another 2kms and he'd meet me at the locked gate to which he would get the keys.
Great! I couldn't see the track but there was plenty of bush on either side to shelter me and protect us from falling. After perhaps half an hour my phone rang again - Wellington Police Control telling me the constable was at the locked gate and where was I.
I told him I didn't know, was just following instructions, but I could see bright lights ahead of me. I suggested the constable flash his headlights, and suddenly the valley was filled with amazing light - red and blue as well as white!
YIPPEE!!! I was thrilled. On the phone my voice was breaking up and Control couldn't hear me but I figured as I rode round the corner the constable would be on the radio to them anyway.
And there was Sheila, waiting at the gate with the police car, and ready with a gin and tonic! What a lady!!!
We led the horses the rest of the way. Well, rather, Sheila did. She insisted I go on to her home and relax.
The next day's ride was along beaches as far as Otaki. It dawned a magnificent day and fortunately the weather held all day. We crossed SH1 and rode straight down through the township, leaving behind the magnificent statue to 'Our Lady of Lourdes' which towers 16 metres tall, casting its protective eye over the township.

And on to the beach - a wide expanse of clean sand, with sandhills between the houses which edged the land, and a clear expanse of blue ocean as far as the steep Kapiti Island - a wildlife sanctuary about 11km long and 3km wide, and 500metres high at its tallest point, with sheer cliffs on the seaward side.
We paid an all to brief visit on Ron Wilkinson, one of the stalwarts of CompuServe's Pacific Forum, and then rode northwards. There were lots of people on the beach, children, dogs and several horses had passed before me. This was the old coach route that Cobb & Co used in the early days of NZ's history, before the building of the train lines and highways.
There was a lot of driftwood and the odd rotting cattle or sheep on the beach, I presume these come down the rivers in times of heavy rain and with the turn of the tide are washed back onto the beaches.
We crossed the Waikanae River, with Brae rushing up and down on the bank before he finally decided he would have to swim after me if he wasn't going to get left behind. There were some lovely beach houses here at Waikanae, one of which was a dome-shaped construction, with maximum use of solar panels and sand on the roof which would have an insulating effect. I'd liked to have had more time and the invitation to explore it!
The sand and driftwood continued on to Peka Peka and Te Horo Beach. From time to time people walking along the beach would stop and ask me where I was going. We had some interesting conversations. However, just short of Te Horo there was a long expanse with no baches, with some strange goings on...
At Waikanae I'd been passed by a cyclist and from our short conversation I didn't understand a word he'd said, yet we were both talking English... He DID seem rather weird. Later, I saw his bike on the beach, and he was up in the sand-dunes behind a bush, whilst on the beach a lone figure sunbathed, either in the nude or with a flesh- coloured swimsuit on.
Over the next ten minutes I saw several similar figures on the beach, and up to about five or six people bobbing in and out of the sand- dunes, heads popping up to observe my progress, before they disappeared behind bushes again. One naked man, stood up, wrapped a bright towel around his waist, and watched me all the way. I decided to leave them all alone, to do whatever they were doing.
Doug suddenly decided he was VERY tired. His head went down between his front legs and he didn't want to move onwards. I unloaded him and found where the saddle was rubbing. He was VERY sweaty. It was getting rather late, and I still had a way to go, so I had to do something or I'd be travelling again in the dark.
I was going to stay with Hilary Beard, a woman I'd not really had the chance to meet, but we'd exchanged email over CompuServe. However, Hilary had proved helpful and resourceful so I phoned her and she offered to come to pick up the packs from me.
Nearby, a lone man walked over to me. I wondered, what was he? He carried two bones to give to Brae - I was immediately suspicious. "Don't panic" I thought...
He offered to put Doug's load on the back of his small truck, and take it as far as the beach. I accepted his kind offer with reluctance, mentally noting his registration number in case my packs disappeared! However, he followed the horses slowly along as far as the road, where Hilary was waiting to transfer the load. She'd also brought me a can of drink so was top of the hit parade! The man could not have been kinder so I was left with feelings of guilt expecting the worst from him.
We crossed the Mangaone Stream and had a wonderful canter before the shingle started. The 4km stretch before the Otaki River mouth became progressively hard on the horses' feet, so our progress slowed.
At the Otaki River mouth there were many people fishing for whitebait. Whitebait are tiny fish, about 4 - 5cm long known as Inanga to the Maori. They're a delicacy in NZ and recreational fishermen just love to catch them, although they've been 'overfished' in recent years. You'll see whitebaiters with their nets and different techniques of catching them in the west coast river estuaries in Spring. The fish come in from the sea and move up river with the incoming tide from the sea.
I'd always thought they were the young of a larger fish but now knew otherwise. They are quite translucent with fine black lines, looking a bit like plankton but with heads, eyes, tails and fins. Whitebait are eaten whole, most frequently in a light batter, but I've heard that they're delicious just lightly fried in garlic butter. They turn white as they cook. There are often jokes made about "stupid" people who have tried 'skinning and gutting them' or 'cutting their heads off so the eyes won't look at you when you cook them'.
I vowed that whilst I was in Otaki I'd have some whitebait. Meanwhile some friendly whitebaiters assisted me across the river, with Brae drifting downstream a little whilst he dog-paddled over to join me on the other side. We followed the path over the river stones and through the wetlands before riding up main street Otaki to our grazing with Vickie and Paul David, who train racehorses.
I spent a delightful few days with the Beards, and we looked around Otaki. Hilary took me to see where the famous Rangiatea church had been. Ko te Whare O te Atua or 'the Abode of the Absolute' was world famous for its magnificent interior - the atmosphere and dignity was mesmerising, with beautiful carving and woven panels. It was a tragedy when a few years earlier it had been burnt down, presumably arson, although no-one has ever been charged.
Otaki is a small town on the edge of the Otaki River - well it's several small settlements. There's Otaki Beach, Otaki town, which is several kilometres towards the beach from SH1, and the settlement where SH1 crosses the river is known as "Otaki Railway". Nearby is the famous Otaki Racecourse.
The original Otaki settlement was famous for two Maori missions, and there is still a very large Maori population here, evidenced by the Maori University (Te Wananga O Raukawa) and organisations such as the Otaki Maori Racing Club.
There's also Otaki Gorge and Otaki Forks (where several tributaries meet to make the powerful Otaki River), now visited only by farmers and people who love the bush, but a truly delightful spot. Hilary and I drove up there, taking their dog, an SPCA special, Emma for a romp in the river. Brae, of course, ran up and down the edge, yapping in frustration - his years of breeding 'don't get wet' conflicting with his desire to have fun.
We went back down to the river and looked around. There were plenty of whitebaiters but not many whitebait. One man had caught one... and it was swimming in its solitude in the bucket. It would appear that over-fishing has taken its toll.
I bought whitebait instead - 200 grams, probably about 400 little fish, enough to make 6 or 8 fritters - at $99 a kilo. They were delicious! I made heaps of batter so I could be sure the recipe was right before we added the fish. When the batter was ready I put one fish in a fritter and gave it to Terry to sample. He enjoyed the joke. On Saturday, 28 September, I left Otaki and rode back down to the beach - once more the beach was to be my day's highway. However, it was just after high tide when I came to the first river, the Waitohu Stream, and as I rode in it got deeper and deeper. By the time my boots were full of water I decided I should, perhaps, turn back and wait until the tide was lower.

Beside the river mouth was a grandfather and grandson fishing, so we spent an enjoyable half hour in their company, although they hadn't caught any fish. I looked upstream for an alternative crossing, but the bank was steep sand on the other side, and there didn't appear to be a good route across.
As we returned to the river mouth the horses were freaking at something up in the sandhills. I couldn't see anything but noticed the grandfather looking over my shoulder and turned around to see a huge Doberman and its mate, a Rhodesian Ridgeback, sitting beside the river watching us with interest. They didn't appear to have collars, and there was no-one else with them.
The grandfather was concerned, deciding they should best abandon their solitary fishing place. It's not often you see dogs unattended on the beach - and these ones did not look at all friendly.
Another woman approached with her Chesapeake Bay Retriever, and she picked up a large stick to scare off the loose dogs. I went over and asked her if I could use her dog for "water testing" so for almost an hour she threw sticks into the river and we could see where it was shallow enough for us to cross - nowhere.
The Chesapeake didn't tire of the game but finally her owner gave up and walked off. The grandfather and his boy tired of catching nothing, and left, and we remained, watching all the water flow out.
An old black Labrador-cross ran up the beach, pursued by something invisible. It came to the stream, ran in, swam across, and took off again running on the other side. As he disappeared in the distance I pondered the mystery: what was driving this dog to make it run flat-tack up the beach.
I rode upstream again; it didn't look any more helpful. At the mouth now there was a dark haired woman waiting, looking up the coast. I wondered if she knew when and where to cross, but as I approached her she moved further away.
I rode D'Art back into the water, and at last the level was lower, low enough so that the waves just lapped the soles of my boots. We were across! I called to Brae, who ran up and down, barking frantically and finally joined me, dog-paddling furiously across.
We were away! I saw the tracks that the Lab-type dog had left, and then noticed him swimming out to sea. He came back in, and ran down the water's edge, heading back south again. Brae ran over to chat but was totally ignored.
It was hot, and I peeled down to my T-shirt, even taking my chaps, boots and socks off so that I could dry them out a bit. I'd found my walkman radio in the pack, and tuned in to the local radio to listen to some music. No-one could hear, I could sing at the top of my voice! This was heaven.
It was a lonely bit of coastline, no-one had been there since high tide, and far in the distance I could see a sole figure walking around. It was forty minutes before we reached him - and he asked me if I'd seen a black dog. He explained they'd been looking after it for a friend when it suddenly took off. I told him where he could find it, and we realised that it had been his wife I'd seen waiting at the river mouth.
He left me to return to his car, walking through the high sandhills near Waikawa Beach. We floundered around for perhaps half an hour in the sandhills, trying to find the best crossing, but from the activities of a group of children on the other side it was plain to see that there was no dangerous ground here, so over we went.
Four kilometres further on, a group of people walked towards me. They were interested in the lone seal by the Ohau River mouth, but my concern was the thunder and lightning I could see behind them. There was nothing tall on the beach - I would be the highest thing around, towering over even the biggest tree stumps which had been left on the sand.
I crossed the Ohau and I was determined to hurry. It was not very deep, but swift. When Brae finally decided to jump in and join me, he was carried downstream and out towards the sea, furiously dog-paddling but in vain. I was sick as I watched. What could I do but call him, begging him to try harder? He was trying all he could. Finally, with relief I noticed that he'd found a footing on the side we'd left from.
I took the horses back into the current and rode across, picking him up onto my saddle. But by the time we reached the other side again, icy drops of rain were stinging us - so cold that the horses kept on turning around, their tails into the northerly wind.

Whilst I put my raincoat on we sheltered beside a tree stump. It was decision time: should I continue on, or wait until the shower had abated? The horses did NOT want to move; they preferred to weather it out. I gave it ten minutes, and when the rain eased slightly mounted again. I found that if we cantered or trotted the horses would at least accept the conditions, whereas at a walk they would take every opportunity to turn their tails in to the weather.
It was another nine kilometres to Hokio Beach and when the rain abated we would ride on. Twice aircraft flew up behind me - a small plane, then a helicopter, obviously following the coastline north. I was pleased to see some fishermen who had driven onto the beach at Hokio, and to turn off and up the Hokio Beach Road. Fortunately, the rain held off for the rest of the ride and it was a pleasant evening.
I'd been invited to stay with Donna and Paul Bright - Donna being a member of the Levin Horse Trekking Club. The horses were pleased to see her paddock and a hard feed waiting for them. Donna keeps two Great Danes - her dogs Thunder and Kimba were massive but gentle creatures.
That night the weather turned foul, but whilst we attended the Levin 4 Wheel Drive Club's Rally at Tirohanga the rain held off so we could see the amazing feats the drivers put their vehicles through - mud, bogs, steep slopes, ditches... Incredible!
Donna needed a farrier to shoe Ghost before she could join me on the next day's ride and it was early afternoon when we set out. I'd left Doug in the paddock with a cut caused by overstepping - he'd clipped his front heel with a hind hoof, and so deserved the day off to rest it.
Our next day's ride took us down Hokio Beach Road with views over Lake Horowhenua - which was said to be one of the most beautiful lakes in New Zealand as it had been surrounded by virgin forest, alive with birds and fish life. The waters provided the local tribes of Maori with abundant supplies of eels, kakahi (fresh water mussels) carp, brown trout, flounder and Inanga.
Today the lake is still an important food source and is also used for yachting and rowing - but the beautiful forest has gone.
We followed the beach for the day, and soon after we turned north we spotted the wreck of the Hydrabad, a square-rigged sailing ship which had been bound for Adelaide in June 1878. Originally, 70 metres long and 13 metres wide, the ship had left Lyttelton in reasonably good weather, but a few days later a gale had blown up, later developing into a full-blown hurricane. The ship lost all of its sails in a very heavy squall - one of them, a new sail, actually exploded in the wind.
The ship's Master tried to reach Kapiti Island, but the vessel drifted to shore. Tremendous seas were running. At one point the wheel kicked and the steersman was tossed up in the air, striking a boom and being very badly bruised. A heavy wave then broke over the stern and nearly washed the crippled seaman overboard - but he was saved by his leg being caught between two iron stanchions. The same wave washed the captain against the mainmast and inflicted some nasty bruises.
There were 33 people on board, including 19 foremast hands and two women - the master's wife Mrs Holmwood and the ship's carpenter's wife who worked as the stewardess. Mrs Holmwood had lived on the Hydrabad for seven years and was heard to remark "poor old ship", refusing to leave the wreck until the injured man was taken ashore.
Efforts to refloat the vessel were aborted on two occasions over the next few months by changes in the weather, and the ship was finally abandoned. I saw a photograph of the wreck taken in 1935, when it still had the main mast and crossbeam, in place, standing as a sentinel on the beach, but today the hulk lies only a few metres above the sand.
We left the beach shortly afterwards and rode into the pines of the Waitarere Forest - 2,150ha of good riding, no traffic, soft going and just the sounds of the birds and the wind in the trees. We kicked east and found a farm road which would take us out to SH1; the Manawatu River was not one which could be forded, by horses or Brae! As we came to the main road the traffic was heavy and the light was failing, so we made the decision that we wouldn't ride any further that day.
Friends of Donna's offered us grazing short of Foxton. My next ride was to begin by crossing the busy and long bridge over the Manawatu River. It was actually two bridges close together, and the day I chose to cross dawned very windy. The sounds of the fast- moving traffic were distorted dramatically by the wind - one minute the road seemed quiet and the next there was a ten tonne truck roaring in your ear. The horses didn't like it - neither did I.
The Levin Police, who had just lost two of their constables, hospitalised by a vicious beating, offered to escort me over the bridge, and I waited with the horses for a time that suited their timetable. Donna, meanwhile, had taken Ghost in the float over the bridge; she was going to ride from the delightful Foxton township. It was cold waiting but definitely worthwhile; the traffic was non-stop. Where were all these people rushing to?
Finally the constable arrived and asked me what I required of him. I explained how it had worked in the South Island crossings, and we set out. This complex was 1.6 km long, but we finally got across without too much disruption, and joined Donna in Foxton.
Foxton is an amazing small town, just off SH1, well worth a stop as you travel north or south. The residents have revived many of the township's historical features, and made every effort to attract tourists with fine dining, tram and horse-drawn coach rides and other entertainments. Once Foxton was a busy port and flax-milling town. Even if you stop here to look at the murals decorating many of the buildings, you won't be disappointed.
We rode right through Foxton, much to the delight of the shoppers, and down to Foxton Beach where we peeled off through a gate taking us through forest and sandhills, and onto the beach once more. Now it was a straight ride north, through stinging sand showers, to Himatangi Beach. Once we were on the wet sand the wind didn't bother us - but it surely was hard work riding through the sandhills.
We found the grazing for D'Art and Doug and whilst I unsaddled and settled the horses, Donna continued riding back towards SH1. The plan was that she would find somewhere to leave Ghost, her beautiful Palomino gelding, and then hitchhike back to her van, returning to collect Ghost and me. Brae and I left the horses and started walking in Donna's footsteps - but none of the drivers would stop for me and Brae.
It was a complicated system of picking up the vehicles but somehow we got ourselves, horses and vehicles where they were meant to be that night. The planning that went into the next day's ride was much more complicated - but easier to execute.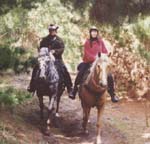 Donna and I drove with Ghost to the property of another member of the Levin and Districts Trekking Club. Now Ghost and Ann Oswald's Appaloosa, Cracker, were loaded into Ann's trailer, and her partner, Eddie delivered us all to Himatangi Beach promising to collect us at the other end.
We rode back onto the beach and headed north for about twenty minutes, which I guessed to be 2 kilometres. Then we turned away from the ocean and headed into the sandhills until we came across the edge of the forest, turning north and riding until we found a track through the dense pinus radiata.
Once more we headed east along the track, until we came to the forest road - it was a simple exercise which took us off the beach and still on our bearing north.
The Tangimoana State Forest was Government owned, partly farm, partly forest. It also housed what we called a 'spy station'. One minute we were riding through forest, or grassed paddocks filled with bulls and sheep, and we turned a corner to be confronted with a maze of aerials and a large, highly secure building. According to book 'Secret Power', written by Nicky Hager and published earlier this year, the station targets two types of long- distance communications: high frequency radio and satellite, as part of the New Zealand contribution to a inter-country spy network.
Evidently it monitors the shipping, aircraft and satellite communications used by many countries with a surveillance area covering the entire Pacific Ocean, Antarctica, the Southern Atlantic and Falkland Islands, and the southern part of the Indian Ocean as far as South Africa.
We were sure that some of the sheep were spies in disguise - and laughed as one bleated with a decidedly American accent! Coming to the main farm gate on schedule, we took a course across a very wet paddock with three or four huge bulls surveying our progress. I'm not quite sure how we would have coped if they'd chased us, as the horses could well have got bogged down.
Tangimoana was originally known as Tawhirihoe and had been settled by the Ngati Apa and Ngati Raukawa tribes. In 1921 the township was laid out as a beach reserve and renamed - Tangimoana meaning "the Crying of the Sea". From the traffic I saw going up and down the road, it's a popular fishing village - whitebait, flounder, herrings and kahawai. As well it's a popular beach with windsurfers and swimmers.
Coming to Rosina Road, I told Donna and Ann about the spectacular garden which I'd found there. Pukemarama was designed in the 19th century in a formal English style; something quite amazing.
I'd discovered this quite by chance - 5ha of tall timber - old English specimen trees as well as shelter belt surrounding formal bricked terraces with 51 steps leading down from the huge house, built at the turn of the century, down into the sunken garden filled with colourful perennials. I just sat in the car, and looked, finding it quite difficult to believe what was before me.
The stately house, built of native timber, is over 600 square metres and is in original condition. I'd like to get back there one day for a picnic in the gardens - you know the sort - wicker hampers filled with chicken and icy champagne, crystal and china.
But for now we followed Tangimoana Road in a north-westerly direction, all the way to the Royal NZ Air Force Base of Ohakea. It was a long straight ride, alongside a well-sealed road.
I had previously asked the staff on the base if they knew of grazing I the vicinity, and had been invited by the Saddle Club on the base to leave the horses at their grazing. I was met at the Gate by an official escort, who drove in front of D'Art and Doug and I all the way to the grazing. They were quite convinced that I was going to steal one of their jets.
It was actually fortunate that we'd arrived at the weekend, as the base is very busy with jet pilots being trained during the week. The noise is tremendous!
This was Donna's last ride, but Ann had decided to join me for the next part of the journey to Feilding. Eddie dropped her and Cracker off the next morning - it was going to be a short ride, through very lush, rolling hill country, a very rich, rural area.
I was surprised to see so many signposts to mountains - Mt Lees, Mt Stewart, Mt Biggs. There were no mountaintops and a perusal of the map showed that we'd climbed up to not much more than 100 metres above sea level. After asking many questions of the locals, the historical society, and the council I came across an old map which showed many more of these placenames in the area - Mt Taylor, Mt Curl, Mt Prospect, Mt Blewitt. It would appear that the early surveyors named high points or trigs as 'Mts' and in some cases the trigs' names became placenames, even though you would struggle to find a peak there.
We lunched on the grass verge opposite the Mt Lees Reserve, a 30ha gully of native forest, gardens and homestead at the side of the Ngaio Station. The reserve was given to the district in 1972 by Ormond Wilson, who developed the gardens from 1930 onwards. Totara, titoki, kahikatea, tawa, puriri and pukatea are some of the beautiful trees which grow there. The daffodil paddock was a picture at this time of the year, and I was told that in the Autumn the gardens are at their most colourful.
At Mt Biggs, between Te Rakehou Road and the school, the local children have planted the road edge with native trees and bushes as a school project. We rode through cabbage trees (or 'ti'), totara, matipo, lemonwood and flax. This will be a delightful glade when the bush gets taller.
The horses were being grazed at the Brickworks. No sooner had Ann and I arrived and sorted out my grazing than Eddie turned up with the horsefloat to return me to Ohakea and the car, and Ann and Cracker to Himatangi.
Feilding is a delightful town with a population of 14,000, nicely laid out and many attractive gardens. There are quite a few historic buildings still standing in the shopping centre.
The people who live here tell me it has a low crime rate and is generally a very peaceful place to life - no gangs, no vandalism. I don't think it will ever become too huge, as Palmerston North is a growing metropolis and only twenty minutes away by car over good roads.
The first European immigrants arrived to settle Feilding in 1874 and named their settlement after Colonel William Feilding, a director of the corporation that chose and bought the land.


© 1996/97 Jacqui Knight, all rights reserved.