TAUMARUNUI to AUCKLAND
Doug had had several days rest at Okahukura, but I wondered if we'd got on top of the recurring lameness.
As I'd passed through Taumarunui I had called into a vet's, who'd checked him out and decided he must have lameness in the near front leg - suggesting that I have him reshod. I was hoping that this had solved the problem, but we'd only ridden about 8km from Okahukura when he showed the same symptoms.
We continued on with great difficulty as Doug just wanted to stop, but after another half an hour we had arrived at the Ongarue Store. I asked the owners, Allan and Sheryl Clark, if I could leave the horses there until I'd made some alternative arrangements, and they were most helpful, putting all my gear out the back.
Earlier I'd contacted a man who I was told knew "everything" about horses, John Downard who lived on Pukewaikaha Station. He'd invited me to stay with them, but added that they'd been called away to Auckland urgently on family business.
Whilst they were away I was invited to stay with their managers, Michael and Andrea Sutherland, and whilst I waited for John's return for an opinion on Doug's problems, I offered to help with the muster, as shearing was imminent. So I hitched back to the Ongarue Store, collected the horses, and rode the rest of the distance to their farm.
It's a delightful district - having once been heavily populated with the majority of the people working at mills in the area. The Ongarue Store is now the sole survivor of the community facilities - it's the Post Office, general store, and also provides takeaway foods on Friday nights. The local people "book" their order to be ready at ten minute intervals so that those cooking don't get rushed off their feet. The nearest town, Taumarunui, is half an hour away, so these takeaways were a good way of "giving the cook a night off".
The local school was well known for its high standards. One night Andrea and I attended the local school prizegiving which was followed by Carols by Candlelight. We arrived near the end of the prizegiving, when there was a special guest announced - Santa Claus. I heard one mom say: "Look, Andrew, who's that?" And the little boy replied: "Grandpa!" It was indeed, his grandfather who was taking the part of Santa Claus.
One problem though was that his daughter had forgotten to pack the beard and moustache and he'd made do with cotton wool taped on. The sellotape didn't last for long, and he ended up by holding the cotton wool in his mouth as he gave out lollies!
John returned with his wife Rebecca, and we got on with the muster. He had no idea what could be Doug's problem, but we arranged to call in another vet for a second opinion. Meanwhile there was work to do.

The station was one of the prettiest I'd stayed on. About 520 ha (1300 acres) it was set in limestone country with steep and rocky bluffs descending to river flats or the Ongarue River itself - with more rolling country at the top of the hills. When you were up the top you got the feeling that you were on the top of the world - surrounded by hilltops, it was an amazing feeling. The sheep, mostly ewes with their lambs, had to be brought down from the top paddocks and often the quickest way to the top was along the side of the bluffs. I didn't dare look down as we rode up, even though John was pointing out his boundary in the distance, and the magnificent waterfall at the back of his property.

Once the sheep were in or near the yards we got busy drafting, lambs from ewes, lambs with white wool from those with a bit of colour, and John was sending a load of fat lambs (ready for slaughter), unshorn, to the works. The drafting was done by Michael who stood at the end of the drafting race with his hand on two gate handles, so that as the sheep walked or ran towards him he could open one of three pens to keep the separate lots apart. My job was to keep the sheep coming towards him, filling up the holding pens as they emptied.
Around the yards there were now seven or eight thousand sheep - the ewes having been separated from their lambs, the noise was horrendous. Ewes looking for their lambs, lambs looking for their mothers - and still we laboured on, at times having to shout to make ourselves heard.

As soon as the shearing team got into action we had to keep them supplied with enough sheep for another spell. With four of them shearing, they would finish something like 1,000 sheep a day. Because John and Rebecca were otherwise engaged Andrea, with baby Matthew in the backpack would come and help out too. Their 4 year old daughter, Amy would also be there - I was amazed at how the children would fit in around the farmwork for long spells and not complain. They were delightful children.
Shearing over, it was time to bring the cattle in for TB testing. There were some 500 Angus breeding cows and calves, and now they had to be brought down and handy to the cattleyards, so that when the TB tester arrived they could be brought into the yards and given a shot of serum.
It was a busy time keeping the cattle coming and going from the yards so that the TB tester was kept occupied all morning. A vehicle arrived, and expecting the vet to see Doug, I rode back down to the house. This couldn't be a vet, I decided - perhaps someone who'd just had an accident, judging by the front of his car, which had been stoved in.
It was the vet; he recounted the story of how he'd been driving through the forest at about 100kmh when a man, exercising some Labradors by letting them run alongside his vehicle, had approached from his left. One of the dogs had run straight into his car - fortunately when hit it was in mid-stride and sailed off into the distance. In recollection, he said, it was rather amusing that he'd gone over to see if the dog was okay (it lived - with repairs to its hips) while the dog's owner had come to inspect the damage to the vet's car.
The vet couldn't work out what was Doug's problem, deciding that it was probably selenium deficiency. I hadn't given this a thought, but the pastures around our volcanic plateau are deficient in selenium. He gave Doug a massive shot of selenium, long-lasting, so hopefully he would come right.
I decided, however, that seeing as my next few days took me out into the wilderness again, I would do better to give Doug some rest so I looked around for a replacement packhorse. I looked at several horses around the King Country and the Waikato, but when I found Captain, I knew he would do me.
Captain was being advertised by friends of John Downard's, and it was a horse that John had previously owned, having found him at a meatworks and buying him as a polocrosse horse. He had used him as a farm hack but had found that he didn't like being ridden away from the other horses, so had sold him on to Cathy Wilson for polocrosse.
Cathy had found him too slow for polocrosse, but had used him as a farm hack and a hunter. He was a finely built horse, 15.2 hands, with a kind face, and an honest eye. We walked up to him in the paddock and I instantly knew that he would suit me. As well, at ten years old I would have a replacement for d'Art when he was retired.
I was unsure as to how Captain would adapt to being a packhorse, but needed to have no worries. He was excellent, nothing bothering him, although I was to find that he wouldn't keep his distance, bumping into d'Art and me with the packs, and also treading on d'Art's heels. I began to appreciate the fact that Doug knew when he was packed and that he was a much wider horse than normal.

We left Pukewaikaha after ten days and rode north through Waimiha to turn east into Ongarue Stream Road. I was to ride to the very end where John and Jane Mason farmed, on the edge of the Pureora State Forest. The road took me through the old village of Piropiro, now with only a few shacks inhabited, but the mill still operational turning out some lovely pieces of native timber from what had once been a very busy forest. Now a lot of the milled land has been replaced with pine forest, and in this area too much of the marginally productive farmland is being converted to pine plantations.
Andrea Sutherland brought the children and Brae, together with a picnic lunch, and we sat beside the road at Waimaha and chatted. When they left we rode off in the other direction - a glorious day and an ever changing landscape. Several people stopped, concerned that I was riding down what they knew was a no exit road, but I could reply with some confidence that I had permission to ride across farmland and Maori land to the Pureora Forest Headquarters.
The map told me that there were two waterfalls alongside the road, and one man, who saw me with the map out, stopped to ask if I knew where I was going. I told him about my trip and he said I had to pay a visit to Maria Tuffin, who was "building a beautiful house" further along the road.
There were some men working in the sheepyards nearby, and then I could see a woman working on building a house. I called out to her about the message I'd been given, and she told me which driveway to ride down. However, before I'd reached it, she'd caught up to me in her vehicle and warned me to be careful with Brae as "ostriches don't like dogs". Hell! Brae!! I wasn't worried about Brae. I was more concerned about d'Artagnan who doesn't like ostriches.

I thanked her for her warning and rode with some trepidation down their drive, noticing both species of animals eyeing each other with all of their warning systems in "prepare to fly" mode. With some reassurance from me I got the horses settled in a nearby paddock and joined Brae as the ostriches looked over the fence at him. He didn't mind them a bit, but they were prepared to have a go.
Maria and her husband Kerry were converting their riverside home into a cabin for tourists. Their log cabin was superb; the gardens came complete with outdoor hot-tub, and a walkway down to one of the most magical waterfalls I've ever seen.
The horses promised they wouldn't be so scared of ostriches next time (but could I trust them?) and we rode onwards down Ongarue Stream Road. At the end we were greeted by John Mason, standing at the gate fighting his good fight against the weeds. It was only a few more kilometres to their house, where Jane and their two sons, being home-schooled waited for us.
[PHOTO]That night I got to meet their pet possum, known as TB or Tree Bear. Brae was fascinated with him... I didn't think so much of him when he suddenly pounced on me, crawling up and over my face with his sharp claws right in my eye.
They were also keen to show me their Kaimanawa wild horses which they'd bought several years before. It was the first time these horses had been auctioned and they'd bought two fillies. They went home and returned three days later to load their purchases into a trailer and taken them home, and were surprised when almost a year later, one of the fillies produced a foal of her own! Evidently it had been served by the herd stallion in the time that they'd been away getting their horse float.
They were delightful horses - looking extremely healthy and hearty. Many is the time that people have pointed to the wild horses' pot bellies and talked about their being "worm-laden", but this was one of the ways in which the breed has adapted for the wild.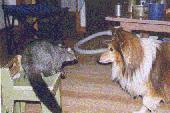 That night Jane had organised a pre-Christmas dinner with their neighbours. There were the policeman from Benneydale and his wife, Frank and Vikkie Grieves, and neighbours Bruce and Val Gray. We had a delightful evening with far too much food and drink, reminiscing and swapping stories. Frank had an excellent reputation with the Police and the residents had a high regard for their diligent policeman.
The talk got on to the subject of marijuana and who had been caught lately growing the dope, and who was about to be visited. I mentioned to Frank what my plan was should I come across anyone in the forest who was obviously up to no good - to be friendly and forthcoming about my intentions, but not inquisitive as to what the other party or parties were doing.
Jane and the boys walked me to their boundary gate the next morning and I had clear instructions from them and Frank, who often drove through the forest, as to which route to take. It was mostly pine forest, with some native plantation, and I never saw anyone until I got to the forest headquarters.

We had plenty of time to get there, so I stopped off and rested the horses part way along the way.
Just before I got to the DOC Headquarters I took a road which had been stopped - and unfortunately took the wrong turning, adding another 6km onto our journey as we explored the maze of forest tracks. However, it was beautiful country and well worth riding around.
At the DOC office I went indoors and thanked the DOC staff (another John Mason) for their assistance, and crossed the road where I'd arranged to ride across a farm.
The first gate was difficult to open, but the horses put their heads down into the lush pasture on the other side. This was DOC reserve. The next gate taking me onto the station proper. I opened the gate and remounted, but after a few hundred metres got off again to open the gate. The next gate I could see was just a single strand of hot wire keeping bulls at bay, so I decided to let d'Art find his own way. He's been reliable like this in the past.
However this gate was going to take me into a paddock with bulls being break-fed, and I would have a temporary fence to open. I looked into the next paddock, but detouring around the bulls would mean riding into standing hay and more hot wires.
It would have been far easier riding around the road, so I turned to go back and discovered that d'Art was shaking himself having rolled (saddle and all!) in a dirt bath of pumice and sand. He was just about to lower himself to 'do his other side' and so I raced back to stop him. Grabbing his reins, I looked around and now Captain was deciding it was a good idea - here he was, packs and all, lowering himself to the ground.
It was just too hot and I was too tired to be coping with this sort of nonsense! We went back out from the farm the same way we'd come, me in a grumpier frame of mind.
It wasn't far to Kimiroa Station, managed by Andrew and Suzanne Downey, on the edge of the Pureora Forest. I had an enjoyable evening with them and their three young children, and the next morning Andrew rode on his quad. motor bike to the boundary gate to ensure that I could get out. By the time he'd returned I was almost saddled and I followed his instructions (and tyremarks) to the boundary gate.
He'd kindly crushed the blackberry with his quad (d'Art would never have agreed to crashing through that!) and it was an easy exercise to find the forestry track which Andrew had told me he'd followed for quite some distance.
It wasn't far enough though, as just past where I could see he'd turned his bike around, there was a very solid forestry gate. I unpacked Captain, and then led d'Artagnan over the top of the bank to get around the gate. Captain, however, didn't like this idea, and no matter how much I tried he wouldn't go up and over.
Not far away from the gate was the main forestry road, so I took my jacket out and laid it beside the road, hoping that someone would see it and stop. A logging contractor soon drove by - and kept driving. Meanwhile my attempts with Captain were to no avail, all he was doing was helping 'erode' the bank, making it even more difficult to climb.
Finally a vehicle saw my baggage and stopped - a foreman from the road construction company. His vehicle indicated his presence to two draughtsmen, who also stopped, telling him his presence was required further up the road. But they could hear 'Cowboy' coming on a modern day equivalent of the steamroller - I still don't know what these machines are called!
"Cowboy's great with horses", they reassured me. Cowboy looked like a jockey gone wrong! Definitely a Kiwi, he had the magical touch and Captain followed him sedately up and over the bank.
We were on our way again, having already made some friends in the forest. These guys knew that we were coming and were looking out for us. The road we were following, Ngaroma Road, had been at one stage the main road to Ngaroma from Pureora, Barryville and Benneydale, but Benneydale was the only surviving township of these communities.
It was easy to hear the logging trucks as they drove up towards us, arriving from the south without a load and leaving again fully laden. The other people were resurfacing the road as a new area of pines were 'ready' for milling. We followed the receding noise of Cowboy's steamroller north.
By the time we caught up to them working on the end of the road, we got another lot of instructions which way to ride. And having left all the activity behind, we rode on into the quiet forest. At times it was mature pine, but there were sections of tall native forest. The road had a loose metal base, but was covered with pine needles, muffling the noise of the horses. It was delightful - I enjoyed my solitude and listening to the wide variety of birdlife.
It wasn't long though before the horses were both spooked by something off to our west - there was obviously something going on deep in the forest. The horses wouldn't have been bothered if it was people, so I wondered if we emitted a strong smell of 'danger' when people were up to no good. Whatever it was, I urged the horses forward away from the danger.
And then Brae disappeared, fortunately off into the other side of the bush, but he'd been gone for about twenty minutes. I didn't want to go back and look for him but I was getting more and more concerned about his non-appearance so reluctantly turned the horses around and rode back into the danger zone. It was with great relief that he bounded out of some bushes; obviously the rabbiting around this part of the forest must be really good.
I'd been warned by the local DOC staff that there was a 'washed out' bridge I would need to get around. They were pretty sure that I could do it. If not, it would be a long ride back to Kimiroa or Pureora. Fortunately Michael and Lynley Williams at Ngaroma were expecting me.
We came upon a sign saying 'Bridge Closed' and 'No Exit', but there wasn't a bridge to be seen, it almost appeared as though a culvert lay deep beneath the road. And then another set of similar signs. It had started to rain, so we sheltered whilst I put on my raincoat.
A few minutes later we came across the bridge that DOC had warned me about. I was told later that the farmers who lived north of here were increasingly irritated by the hunters and other people who drove across their land without seeking permission, so they'd removed the bridge. Quite successfully too! It was a steep track down some 6 to 8 metres to where the remains of the bridge lay amidst boulders, with the river tinkling beneath the debris. And another steep rise on the other side. I walked over first to explore the footing. The soil here was pumice and sand, and crumbled underfoot, not giving any purchase. I hoped the horses would be able to negotiate their way.
I did remove the packs and covers; I would need to lug these across my self. I thought I'd take Captain across the obstacle first; stupidly, I didn't tie up d'Art. I led him to the edge and then climbed down myself, to the end of his rope. Then I turned around and d'Art was hard on his heels.
I dived to the side, out of the horses' way (I'm not at all quick on my feet on rough ground). D'Artagnan was at least forcing Captain onwards, but he had clipped Captain's heels. Captain put a foot down a hole at the bottom, the soil giving way under his hoof and he rested his chest on a huge boulder. However, he got up and blundered on, now leaving d'Artagnan to come down more slowly.
They climbed to the other side where Captain held up his heel, obviously in some pain. Secretly I hoped it would teach him not to walk on d'Artagnan's heels - perhaps d'Art had done it deliberately?
Now it was up to me to bring over the baggage. Ugh. What a job. I tied the covers together with the straps from the topload and lowered them down to the bottom. It was tempting to throw them, but I thought that it would be my lucky day if they went down the hole and disappeared down the river.

To get it all up the other side I had to do it bit by bit - take a step, lift one bag, then the other, then the covers, then my saddlebags. Take another step upwards... It seemed to take an awfully long time, but I finally had all of the gear at the other side.
And now to load up again. I lifted the pack onto one side, then walked around Captain to load the other. As I hoisted the pack onto my head, I looked over the top of the saddle and down the track, and towards me walked a young couple with a gun. It came as such a shock to see people out here in these parts. Fortunately I had the benefit of having seen them - they didn't know that I'd seen them.
They clambered down the bank to the river and up the other side and that's when Brae ran down towards them, barking. I called him back and told them he wouldn't hurt, he was just cheeky. They asked me what I was doing, and I asked them what there was to hunt thereabouts. The young chap told me that he'd grown up in the district hunting with his grandfather, who'd worked at all the mills, and so he'd taken his girlfriend out for a spot of hunting.
I told them where I had ridden from and they were impressed. He asked me if I was doing the trip alone, and I answered 'yes' before I'd put my brain into gear. I added that I had friends rode with me sometimes, and that they were waiting at Ngaroma.
The young couple walked up to where the track went on to private land, and I told them I'd be following when I'd saddled up. As I reached the gate they kindly opened it for me, probably happy to see me off their 'patch'. I'll never know if they were up to no good or not, but it made me realise just how vulnerable I was out here alone in the forest.
So we left the forest and followed the formed road through two properties to get to Ngaroma. At the end of the road I found another very solid locked gate. I'd forgotten the warning from Max Mandeno, the property owner, who'd told me to come another way. Damn! We were all too tired to go back. Instead I phoned Michael Williams who was expecting me and asked if there was an alternative route to going back. He drove around and showed me the river crossing, and then took Brae ahead back to his farm.
The Williams were a delightful family - Michael is a former Army Officer and had some amusing tales to share with me. The children were excitedly preparing for Christmas. Their middle child, Janet, was a very keen rider, and fell in love with Captain, spending every minute she could on his back, trotting his to and fro.
The weather changed and I enjoyed a few days at the Williams home. It gave me an opportunity to go Christmas shopping at Te Awamutu, and make more plans for the next stage of the journey.
When I finally left there I rode north-west out of the King Country and into the Waikato. This day was going to be a long day, and I'd determined to set out early. However, I'd wanted to take some photographs of the Williams family, and then I noticed that d'Art had lost a shoe before we left so Michael offered to replace it. Janet was riding with me as far as the corner, so we didn't get away to such an early start.
It was pleasant riding cross country, pretty scenery, and the views of the Waikato from the Rangitoto Range was beautiful. But soon the road got hot and dusty, and the traffic was indicative that I was entering a much more built up area.
It was a long day's ride, 47 kilometres. Beth Guest had started out to meet me on her endurance horse, but when it developed lameness she took her horse back and came out again with husband Ron in their car. I was glad to see them, as it was getting late when I finally arrived.
The next morning Beth's horse had recovered so she rode with me part of the way towards Te Awamutu. We stopped and looked at the delightful St Paul's Church, built in 1856 at Rangiaowhia. The church was all that was left of what had once been a thriving mission station, with many Maori parishioners growing wheat and vegetables and producing flour for the Auckland market.
Te Awamutu was first settled by the Tainui Maori around the 14th Century. Their forebears sailed from Hawaiiki, and the canoe moored at Kawhia, under the sacred Pohutukawa 'Tangi te Korowhiti'. From there the Tainui people settled most of the Waikato and the King Country, where there were excellent growing conditions and good access to the rivers, their main means of transportation.
Between 1775 and the early 19th Century a number of prominent Waikato chiefs and warriors were born, including the first Maori King, Potatau Te Wherowhero of Ngati Mahuta, Te Rauparaha of Ngati Toa, Kawhia and Hongi Hika, a Ngapuhi Chief from the north, who played a significant role in the history of the Waikato.
It was Hongi Hika who invaded the Waipa district in 1822 near Pirongia. The site of Matakitaki Pa (village) and its inhabitants were well suited to traditional Maori hand-to-hand conflict, but they were defeated by the musket. This was the first time that European weapons were used in the Waikato and the first time that the taiaha (long spear shaped weapons) had not been effective.
Europeans were expelled from Te Awamutu and the surrounding districts when the Waikato Land Wars broke out in 1863, and although settlers drifted back from 1865 onwards it wasn't until the railway opened up the area in 1880, making farming profitable, that the district began to go ahead. Today it's a popular farming district with many dairy farms.
Te Awamutu is now known as 'the Rosetown', with many lovely rose gardens planted around the town, and roses growing wild in a lot of the district. In the Rose Gardens there are over 2,000 bushes and over 80 varieties to enjoy.
I left Beth and rode into the town, calling at the saddler's shop and the vet's for blood tests for d'Artagnan and Captain, to test their selenium levels. Then I rode down to the railway line where I was to meet up with another endurance rider, Carol Kevey, who was to ride with me as far as Pirongia.
Carol was great company and we decided to ride via the DB Clydesdales at Patetonga. Dominion Breweries have invested in a string of Clydesdale horses which they use for promotional purposes - hauling a giant wagon or in harrowing displays. These Clydesdales are well looked after by Nick and Jill van der Sande, and we were given a tour of the stables and truck which contains all of the saddlery and their other paraphernalia.

A journalist and photographer had come out from the Waikato to photograph us, and the photographer asked Carol if he could borrow her horse to get a vantage point for his photograph. It did look funny, Carol leading her horse along the road, whilst the photographer sat aboard her horse!

Carol and I called in to the Pirongia pub for a quick drink before she returned home to milk her herd of cows, and I rode on around the mountain.
Pirongia mountain is a giant extinct volcano - what it lacks in height (959 metres) it makes up in area. Since I'd been shown almost twenty years ago the back-road which detours Hamilton from a north-south journey, I'd been inspired by this beautiful mountain. It is covered in bush from its lower slopes and looks dark and mysterious, sometimes shrouded in misty cloud.
I had arranged to ride to my friend Tony Hollinshead's farm via a back road and over several farms. This had taken quite some arranging - finding out who owned the farms, asking their permission and then finding out who was their neighbour and if there was a boundary gate. I had wondered at the time if it had been worth it, but with so many people expecting me, I didn't like to change my plans at this late stage.
The first farm was easy - a beef farm with all of the gates except one or two open to the boundary. The boundary fence opened onto a paddock of standing hay, so tall that I couldn't see the next gate, let alone the fence. I took the horses through and led them down the fenceline, but still unable to fathom where the gate was, I rode back out again and phoned the farmer on my cellphone.
With instructions as to the location of the gate, we ploughed back through the tall grass, down the next fenceline and through the gate. Then we rode down a steep track to the bottom of the hill. Here a single electric wire blocked our progress. I dismounted and tied the horses up; they tend to freak when a fence goes ~tick~ ~tick~ at them. As I pulled the hooked wire away from the eye loop, made from another wire, the tension meant that the eye moved away from the hook - putting even greater tension on it. I tried vainly to undo the gate, but to no avail. This was so frustrating.
Leaving Captain tied up to the fence I took d'Art back up to the top of the hill and phoned my friends, Kerstin and Tony. Tony was still out working so I asked Kerstin if he would phone me as soon as he got back in. I waited twenty minutes, and it was getting dark. Surely he must be back by now. Finally he phoned me and I told him my predicament. The guy whose farm it was, whose standing hay I'd already ridden through, he'd be getting fed up with me if I phoned again. Would Tony come and help me?
Tony, a really obliging friend, arrived on his motor bike and opened the gate. No problem. Followed by Tony on his motorbike, who would open and close the gates, we cantered up the race to the road.
I suggested to Tony that I'd give up my plan to ride cross-country, but he felt it would be better, considering that the night was quickly approaching, to ride across his neighbour's dairy farm to his run-off, and to leave the horses there. He would open each gate and I promised him a bottle of beer for each gate he opened. There must have been forty or fifty gates he opened - each one electric, with electric fences ticking away on either side of the race. I was glad he was there to do the job - I would have been there all night.
These farmers don't realise that the tension they put on these electric fences is often too hard for a wimpish female to undo!
Eventually we arrived at Tony's run off and I unsaddled the horses and left them in a paddock whilst he went on home to get his car for the gear. It was lovely to see Doug again - he looked quite lonely in his paddock. I wondered how he'd react to see d'Art again?
The next morning I rose reasonably early and went up to Tony's run-off to bring the horses home to his main farm. I rode d'Art down in his cover, and as I came down the main road I could see Doug across the paddocks, grazing away. I called out to him: "Doug". His head went up. I took my horses off the grass verge and onto the road, so he could hear the clip-clop of their hooves. He stared.
I called again 'Doug'. This time he trotted to the fence and called out. It sounded like: "Is that you, d'Art?"
D'Art stopped dead and stared, responding with a whinny that sounded like: "Doug?"
Now Doug called back, something akin to: "D'Artagnan!!!" And I could have sworn that d'Art was saying "G'day Doug!" There was definite delight in his voice, and his pace quickened down the hill, over the bridge and down Tony's driveway, with much snorting and whickering at the gate, and then chasing as they sorted out their pecking order in the paddock.
I stayed with Tony and Kerstin for almost two weeks, including Christmas and New Year. It was great to be with old friends again. Christmas afternoon Chris and James arrived and we took a picnic meal up Pirongia mountain for a delicious but very relaxing evening.
On Boxing Day we took in a little Kiwi culture - we went to the races at Pirongia. There is a golf course now on the site of what was once the Alexandra Racecourse. Once a year, on Boxing Day, the golf course is used again for a picnic race meeting. Temporary fencing is erected to denote the racecourse and cars are parked on the fairways, surrounding the greens. There is a full card of races, with smallish fields, and two of the races are for trotters (with sulkies). The betting system is purely on a luck basis, you pay your money and get the ticket you're given, but it's intended as a fun day and the people we saw there seemed to be enjoying themselves.
It was superb weather, very hot at the racecourse, and a fascinating exercise watching all sorts of people enjoying themselves, getting pleasure out of the convivial atmosphere, the fresh air, sunlight and fun.
I'd arranged to stay with more friends on the other side of the Waikato River, Jocelyn and Dennis Trebilcock. Like Tony, they'd been farming near my old home at Paparimu. However, they'd subdivided their Paparimu farm and bought another larger dairy farm in the Waikato, and have now sold their dairy farm with Dennis selling real estate. Dennis and Jocelyn had taken their family to the beach for the last few weeks of the Summer, and I agreed to watch over their property for them for a few days.
New Year's Day and I was going to try leading two horses - Captain and Doug so the day I left Tony's I left Brae behind. This was not a successful exercise - not long after leaving their place I came to a long and busy bridge and d'Artagnan refused to walk over the black crack at the beginning of the bridge. This was the main route between Hamilton city and Raglan surf beach, on a glorious Summer's public holiday, so you might be able to imagine that the drivers weren't exactly the types to be responsive to the needs of horses!
I rode forwards and he would stop. I would try to flick him with the end of the rains, but either way I would scare Doug or Captain back. After several attempts there would be traffic building up behind us, so I would turn around and ride away from the bridge and let the traffic clear.
I didn't want to give up, so I tried to get across three or four times before I finally gave up and led all three horses across the bridge to the other side. What a disastrous start to the day!
I needed something to unwind so tied the horses up in a paddock and went in to the Whatawhata pub. But they had sold out of my favourite Speight's Old Dark! And despite advertising that they cooked meals, the bartender told me that it was the cook's day off. This was not a good day!!!
I went back and caught the horses, Doug having managed to untie himself and had wandered away, and we rode off towards the overnight paddock at Horotiu. I brightened up when we came to a tree laden with beautiful, delicious plums within arm's reach! Mmm, they were good.
At Horotiu Bridge I managed to control three horses AND press the 'wanting to cross the bridge' button so that the traffic lights would change. And then I found the paddock in which I was to leave the horses. Tony, Kerstin and Brae came to collect me and we picked a few more plums on the way back.
I decided to try again with three horses and a small dog the next day. To begin with I saddled up Captain, as he was still standing on d'Art's heels, but he was so excitable and wanted to jig-jog all the way, so I swapped the saddle over and went back to riding d'Art. At one part we had to turn onto a very busy Hamilton bypass, and I was frantic with Brae behind me, so picked him up and put him on the saddle.
I was relieved when we turned onto a lesser road and I could put him down again, and he was doing a great job of keeping in behind me. It began to rain, very softly. I don't know why Brae suddenly ended up crossing the road - perhaps it was the scent of a rabbit - but to see the car approaching me jam on his brakes and slow in a cloud of blue smoke instantly alerted me to the fact that Brae wasn't where he should have been.
I screamed at Brae, who immediately tucked back in behind me. The driver stopped a hundred metres down the road, with long skid marks extending from alongside me to his car. He got out.
I called out to him: "Are you all right?"
"Yes, we're okay!" he replied. "Is your dog okay?"
"Yes, thanks! Silly little idiot!" I called back. And he drove off.
Not long afterwards we came to the donkey stud. I'd forgotten about its existence, but of course the horses smelt it before I remembered. A truck was bearing down on me and I stopped to let the truck go by and let the horses see the donkeys. Doug kept on walking, and at the end of his rope, turned and came back the other side of Captain. Captain, by now, not liking to be too close to Doug (sometimes he would kick Captain) jogged around the front of d'Art, and came around the other side. D'Art couldn't move for lead ropes wound around his chest.
Now all I needed was for the donkeys to start braying.
You can probably understand why I decided it wasn't going to work leading two horses? I organised for Doug to be trucked to Auckland, so that I could use him should either d'Art or Captain need a rest. Friends at Clevedon agreed to take Doug, actually falling in love and not wanting to part with him afterwards.
We stayed almost two weeks at the Trebilcock's lovely home. Captain and d'Art enjoyed another long rest, and I got on with my writing. Although it was hard to concentrate at times.
Another cyclone, the second in a few weeks, hit New Zealand and I was pleased to be staying put. Both cyclones caused massive slips and some severe flooding to beachside residences elsewhere. I was to see the evidence of its effects when I reached Northland.
Dennis and Jocelyn had arranged for a young boy to come in and feed the animals and generally keep an eye on the place. But this lad, in his teens, seemed to think that he owned the place, and would play with the children's toys, or get onto the computer, be cleaning out the swimming pool one minute and then playing around outside with a piece of gardening equipment - the lawnmower or the leaf-blower - the next. What's more, he would just arrive at any time and just walk in on me. It was most disconcerting.
I told him that he'd 'given me a fright' by walking up behind me, and would he mind knocking when he came in the door. But this didn't help. Once he was in he would still move around the house, flitting from activity to activity, more quietly than a mouse.
So I decided that as I had the house keys (I thought the only set) I'd lock the front door after me. I went out to get some washing and returned to the house to fold it on the bed I was sleeping in, in the master bedroom. All was quiet, and I wondered what he was up to now - last I saw him he'd been outside in the garden, blowing the leaves off the driveway.
Then I noticed his gumboots outside the window. "That's funny", I thought. What are they doing there. And a bedside drawer open. Well I knew that I hadn't been into their drawers.
This was spooky. I turned around and the partially open door of their walk in wardrobe caught my eye. Which was funny, because I had left it closed. I leant on the door, and it wouldn't open - there must be something behind it. So I leaned harder and realised it was something alive behind the door. The lad walked out, and when I asked him what he was doing, he replied: "Nothing".
By that evening I was really spooked. In all innocence I imagine he'd been disturbed in the room by my coming back with the clean washing, and had ducked in there to avoid telling me what he was doing. But it was quite disconcerting.
My cousin's wife, Pat, came around and I recounted the story to her. The more I thought about it, the spookier it got. Well, when I went to bed that night I could hear more and more noises in their house. At midnight I phoned Chris in Auckland - I knew he'd be awake. I gave him the details as to where I was staying and asked him to hold on to the phone while I went and investigated. I couldn't find anything suspicious around the house. But the noises continued, so I called the Hamilton Police.
The phone line was answered by the Auckland Police, but they told me that there had been a break in just down the road in the service station and they'd send a patrol car out to check around the house. Even though it took them an hour and a half to get there I was relieved to see them!
Of course, they looked around the property and didn't find anything, but I finally got to sleep. It was a struggle to get up the next morning, though!
Get up I did - we rode along Ten Foot Road for what seemed like hours. The area had been drained (the ditch was designed to be ten foot deep) and turned into farmland after the war, and most of it is used for dairying. It was one dairy farm after the other, and the road was straight and flat.
Further north, I'd arranged with two dairy-farmers to ride across their properties and along the edge of another drain, to cut out about 4km of road. This proved to be one of those more successful detours - there were only a couple of non-electrified wires to take down, and some wonderful native trees which I would have otherwise missed.
Now it wasn't far to the farm of Diane and Graham Smith at Taniwha. When I'd been invited to stay there I'd been told that there was a pony club camping at their shearers' quarters. As I rode towards their farm, another local stopped to greet me - and told me the pony club was in fact the Hunua Pony Club - some of my former neighbours! This could be fun, catching up with the district...
In fact it was Lindsay Finan, who'd previously given me riding lessons that greeted me at the gate, together with Freda Pearson, who'd bought my son's pony some years previously. Millie was a sprightly little grey mare when I'd bought her, but she'd been rejected for sale to the Japanese because she had a cancerous growth. She proved too fast for James, who wasn't really interested anyway, so I'd sold her to a friend, who'd passed her on to the Pearsons.
The Pearsons' foster daughter was epileptic, and Millie sensed when a fit was coming on and would stand still - they were very fond of her.
Lindsay and her friend Lynne took my horses down to the creek and cooled them down for me. As I'd been nearing the farm, Captain was stopping and exhibiting exactly the same symptoms as Doug had all that time before when he'd been sore. Removing the saddle it was obvious from the swelling on either side of his spine that it was his back which was the problem.
I decided to rest Captain the next day, and a friend of Lindsay's Duncan Buchanan, kindly offered to transport my packs and Captain through to Kaiaua. It was going to be a long day for d'Artagnan and I, so we set off early - at least I would be able to canter and trot to make good time.
We were making good time when I noticed that d'Art's shoe was wearing thin, and in fact had broken into two pieces. I wondered where I would get a farrier from. Having been involved in the tourism industry in South Auckland, I decided to phone my friends at the Franklin Information Centre, to see if they could tell me the names of people operating horse-trekking in the Kaiaua area. Anne responded in a very positive way - suggesting that I let her solve my problem whilst I rode on northwards.
A few minutes later my cellphone rang - a man offering to come and put a shoe on d'Art. We arranged to meet at the Red Fox Tavern, Maramarua, in two hours - so I would have an hour to wait for him. How would I spend an hour at a tavern?
I sorted out my priorities. Firstly, d'Art and Brae were thirsty (but so was I!). Secondly, they have a great little grill at the Red Fox, and I'd have time to partake of a delicious lunch before Kaye arrived to fix d'Art. And thirdly, if I could I would rest during the hot hours and ride on when it was cooler.
I had no sooner arrived and ordered my lunch (Wiener Schnitzel, my favourite!) when someone was asking me if I'd just ridden along the state highway.
"And did you have a little dog on behind you?"
"Yes, that's right!" I continued.
"Are you the woman that's riding around New Zealand?" "That's me."
"Please, we'd love you to bring your lunch over here and join us."
The couple told me how they had several dairy farms and were sharemilking on another with other business interests as well, but how they'd been inspired to go abroad by what they'd read about my journey.
I was just telling them more about it when Kaye Morrison walked in. When he spoke to me earlier on the phone he'd just delivered some livestock to the meatworks in Auckland, and he'd just had time to take the truck home and pick up his smithy's tools to come down to the tavern.
When we got back to d'Art we found that Kaye's friend Eric had diligently started filing the clinches off d'Art's front shoe. He was given a hard time by both Kaye and I, for making the job twice as difficult.
Two shoes replaced, I took Kaye and Eric into the Red Fox to pay them by buying them a beer... or two. What a couple of hangmen these two were. No matter what you said, they could twist it so that it was a gentle insult at the other.
I gave them some stick, saying that with my horse newly shod on one side only, I'd have to ride with a lean for the rest of the day. But Eric said that that would be okay, as I was riding north and the seaward side was probably downhill anyway.
I was rolling in fits for the next hour and when we emerged Eric had told me that I had only 13 kilometres more to ride to get to Kaiaua, so I decided to have a nap in the sun and let d'Art enjoy their lawn. Brae was quite happy, asleep in the shade of the tree. As I dozed, d'Art would frequently tug at the end of his rope, indicating that he'd like to get at that grass 'over there', so I would move a little further along.
I came to at 4pm and saddled up again, riding over to check the sign to Kaiaua. Well, Eric had really pulled the wool over my eyes - it was not 13 but 30 kilometres to go. This was almost a full day's ride - five hours anyway.
It was great to get up on top of the hills and to look down and see Kaiaua, even if it did still look far away. Beyond Kaiaua was the Firth of Thames, and in the distance the Coromandel Peninsula. It's a spectacular part of the country, the dark blue of the hills contrasting with the sparkling blue water, and the green hills in the foreground.
I had lived in these hills, the Hunua Mountains, (although I'd never refer to them as mountains again, having ridden in the Southern Alps!) for the past eight years before I began my ride, and many was the time I took tourists out for a day's drive around the Hunuas.
Tomorrow I was to ride through them, something I'd always wanted to do. I'd managed to get the permission of the Auckland Regional Council Parks to do so, and invited Kaye along for the ride. I would be leading Captain, and Kaye had offered to bring another horse around for a friend from Hunua, Vicki Kelly, to ride. However, first I had to arrive at Kaiaua.
It took an age getting down out of those hills and onto the flats. We ambled past the Miranda Naturalists' Centre, set on wide inter-tidal flats of about 8,500 ha, which each year attracts thousands of migratory wading birds - both from NZ and from as far away as Siberia.
Extensive banks of sea shells have formed which make safe roosting areas for these birds at high tide. Of course, they provide easy viewing for avid birdwatchers too. There are Wrybill with their unique beak, the tip of it edging sideways to enable them to open shellfish, and the NZ Dotterel - in all up to sixty species of birds, 24 of them waders, and on occasion Arctic vagrants will arrive.
I knew the custodian, Keith Johnston, from previous visits there. He's an excellent painter of seabirds in their environment, and the Miranda Centre has accommodation which I'd been intending to use - but I knew there was no grazing for horses and that Brae would probably not be welcome.
Instead I'd contacted the proprietors of the Bay View Hotel, who had been in Tourism Auckland South with me. They'd arranged grazing for the horses with Katherine Newbold and Dennis Thompson, and opened a section of their hotel for me. It was 8.30 pm when we got there, and found that Captain was already safe in his paddock, about 2kms away.
I put Katherine's little girl onto d'Art and walked alongside them around to the paddock. As soon as Captain saw d'Art, he called out - so pleased to see his friend again! These horses must wonder what is going on!
Brae was exhausted and I was very tired and kindly Katherine ran me back to the hotel. I unpacked my bags and knocked on the door of the kitchen to ask if it would be too late to get some dinner. The kitchen had already closed but they said they'd cook me something simple - and suggested Wiener Schnitzel - did I like that? Twice in one day... of course, I'd love it. I didn't tell them how long it had been since I'd last eaten my favourite meal.
© 1996/97 Jacqui Knight, all rights reserved.